Warning!

At least some content in this article is derived from information featured in Harry Potter: Hogwarts Mystery. Spoilers will be present within the article.
"Vermillious, otherwise known as Red Sparks, is an excellent spell for emergencies. If you're ever in danger, fire Red Sparks into the air to call for help."
Red Sparks (Vermillious) is a charm that precipitates a jet of red sparks from the tip of the wand,[2] something that may be useful to signal an emergency and call for help.[1] It can also be used offensively as a minor duelling spell,[3][4] but it is not effective against armoured or metallic opponents.[5] It is covered in the book The Dark Forces: A Guide to Self-Protection by Quentin Trimble.[2]
Vermillious Duo and Vermillious Tria are more powerful versions of Red Sparks.[4][5]
History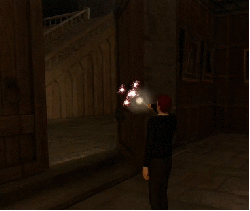 During the 1987–1988 school year, Red Sparks was part of the fourth-year Charms curriculum at Hogwarts School of Witchcraft and Wizardry.[1]
In 1992, while searching for an injured unicorn, Rubeus Hagrid instructed Harry Potter, Hermione Granger, Neville Longbottom, and Draco Malfoy to send red sparks in the air if they were trouble, and Neville Longbottom did use it later that night.[6]
In 1995, champions who were lost in the Third Task Maze would send up red sparks, and when Viktor Krum got knocked out, Cedric Diggory used the Red Sparks to signal that he was down.[7]
Following the American National Quidditch team's win at the semi-finals of the 2014 Quidditch World Cup against Liechtenstein, red, white and blue sparks filled the air so thickly it was difficult to see or breathe.[8]
Known practitioners
Etymology
Vermillious derives from the English word vermilion, a term for a shade of brilliant red. Interestingly, the incantation has two letter "L"s, but the proper spelling of vermilion has only one "L".
See also
Behind the scenes
Appearances
Notes and references
*Disclosure: Some of the links above are affiliate links, meaning, at no additional cost to you, Fandom will earn a commission if you click through and make a purchase. Community content is available under
CC-BY-SA
unless otherwise noted.