Jurassic World: Dominion Dominates Fandom Wikis - The Loop
Play Sound
"With this powerful curse, skilled wizards can easily reduce obstacles to pieces. For obvious reasons great care must be exercised when learning and practising this spell, lest you find yourself sweeping up in detention for it is all too easy to bring your classroom ceiling crashing down, or to reduce your teacher's desk to a fine mist."
The Reductor Curse[3] (Reducto)[1] was a curse that blasted solid objects to pieces.[1] It was rather easy to reduce a target to a fine mist[3] or a pile of ashes.[2] Harry Potter taught this curse to Dumbledore's Army during the 1995–1996 school year.[4]
History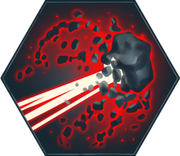 It is unknown when and who invented this spell. It was also featured in the Book of Spells, and was commented on by Miranda Goshawk, the book's author.[3]
During the 1988–1989 school year at Hogwarts School of Witchcraft and Wizardry, the then Defence Against the Dark Arts Professor Patricia Rakepick taught this spell to her fifth-year D.A.D.A. students, in order to teach them something both highly practical and useful in their education.[5]
This was one of the spells that Harry Potter taught Dumbledore's Army,[4] having previously used the spell during the Triwizard Tournament.[1] It was used heavily by members of the D.A. that participated in the Battle of the Department of Mysteries in June 1996.[6]
Known uses
" Five different voices behind him bellowed, "REDUCTO!" Five curses flew in five different directions and the shelves opposite them exploded as they hit; the towering structure swayed as a hundred glass spheres burst apart, pearly-white figures unfurled into the air and floated there, their voices echoing from who knew what long-dead past amid the torrent of crashing glass and splintered wood now raining down upon the floor — "
— D.A. members smashing the shelves in the Hall of Prophecy
Known practitioners
Etymology
The incantation "reducto" is derived from Latin reduco, meaning "reduce" or "bring down".
Behind the scenes
Appearances
Notes and references