---
Revision as of 20:30, 13 May 2017
The Reductor Curse[3] (Reducto[1]) is a curse that can be used to blast solid objects into pieces.[1] It is rather easy to reduce a target to a fine mist[3] or a pile of ashes.[2]
Harry Potter taught this curse to Dumbledore's Army during the 1995-1996 school year.
History
It is unknown when and who invented this spell. It was used multiple times during the Second Wizarding War. It is also featured in the Wonderbook: Book of Spells and commented on Miranda Goshawk.
Known uses
Known practitioners
Etymology
The incantation "reducto" is Latin for "reduce" or "bring down"
Behind the scenes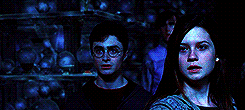 In the film version of The Order of the Phoenix, only Ginny casts the Reductor Curse to smash the shelves in the Hall of Prophecy, instead of every D.A. member present.
Appearances
Notes and references
[[es:Maldición reductora
*Disclosure: Some of the links above are affiliate links, meaning, at no additional cost to you, Fandom will earn a commission if you click through and make a purchase. Community content is available under
CC-BY-SA
unless otherwise noted.