Warning!

At least some content in this article is derived from information featured in Harry Potter: Hogwarts Mystery. Spoilers will be present within the article.
"Is this all real? Or has this been happening inside my head?"

The subject of this article is of a real-life person, place, group, company, product, or creative work that has been mentioned "in-universe" in a canon source. The Harry Potter Wiki is written from the perspective that all information presented in canon is true (e.g., Hogwarts really exists), and, as such, details contained in this article may differ from real world facts.
Romania (Romanian: România) is a country located in southeastern Europe. It borders the Republic of Moldova to the north-east, Hungary and Serbia to the south-west, Ukraine to the north, and Bulgaria to the south. Its capital city is Bucharest ("București").
History
In 1809, Romania competed against New Spain in the 1809 Quidditch World Cup final.[1]
After leaving Hogwarts School of Witchcraft and Wizardry, Charlie Weasley studied dragons at the Romanian Dragon Sanctuary.[2] In 1991, Students at Hogwarts School of Witchcraft and Wizardry believed Quirinus Quirrell's classroom smelled of garlic in order to ward off a vampire he met in Romania who he was afraid would come find him.[3] Molly and Arthur Weasley went to Romania during the Christmas break in 1991 to visit Charlie.[4]
Magical creatures
Native to Romania
Worldwide
The following creatures are all found worldwide:
Appearances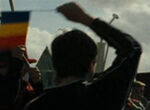 External links
Notes and references

This article about a location is a stub. You can help by expanding it.