"Is this all real? Or has this been happening inside my head?"

The topic of this article is of a real-life subject that has been mentioned "in-universe" in a canon source. The Harry Potter Wiki is written from the perspective that all information presented in canon is true (e.g., Hogwarts really existed), and, as such, details contained in this article may differ from real world facts.
"These plants are most efficacious in the inflaming of the brain, and are therefore much used in Confusing and Befuddlement Draughts, where the wizard is desirous of producing hot-headedness and recklessness…"
— A passage about the uses of scurvy grass, lovage and sneezewort.
Scurvy grass is a mundane plant with magical properties.[2]
History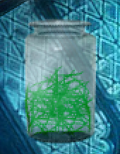 It was used as an ingredient in the Befuddlement Draught.[2] It is kept with other potion ingredients in the Potions Classroom at Hogwarts School of Witchcraft and Wizardry.[3] It was also an ingredient in the Invigoration Draught.[1]
Behind the scenes
Scurvy grass (Cochlearia officinalis) is a biennial herb that grows in salt marshes or along the seashore in northern and western Europe and Great Britain. Its high vitamin C content meant is was used in the past to help cure or prevent scurvy, or Vitamin C deficiency.[4] Scurvy grass also has antiseptic, diuretic, and mild laxative properties.[5]
Appearances
Notes and references
*Disclosure: Some of the links above are affiliate links, meaning, at no additional cost to you, Fandom will earn a commission if you click through and make a purchase. Community content is available under
CC-BY-SA
unless otherwise noted.