Cobra Kai Season 4 - The Loop
Play Sound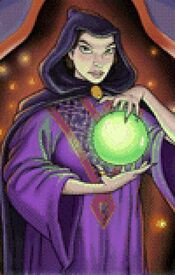 A Seer was a gifted wizard or witch who had the ability to see into the future with their Inner Eye.[1]
Description
Seers predicted prophecies, which were then recorded and stored in the Hall of Prophecy in the Ministry of Magic's Department of Mysteries.[2][3]
According to Minerva McGonagall, true Seers were extremely rare, and she had doubt that Sybill Trelawney could be considered as one despite her sporadically accurate predictions.[1][4]
Albus Dumbledore once told Harry Potter that seeing into the future was incredibly difficult because of the complexity of every single action and their consequences.[5]
Centaurs were Seers with their own brand of Divination, which differed from that of humans.[6]
Hermione Granger expressed scepticism of Divination as a branch of magic, regarding it as imprecise at best and entirely fabricated at worst. Her lack of respect for Divination notably placed her squarely at odds with Sybill Trelawney.[7]
Naming Seers
Known Seers
Appearances
Notes and references
↑ 1.0 1.1 1.2 Harry Potter and the Prisoner of Azkaban, Chapter 6 (Talons and Tea Leaves)
↑ Harry Potter and the Order of the Phoenix, Chapter 34 (The Department of Mysteries)
↑ 3.0 3.1 3.2 Harry Potter and the Order of the Phoenix, Chapter 35 (Beyond the Veil)
↑ Harry Potter and the Prisoner of Azkaban, Chapter 16 (Professor Trelawney's Prediction)
↑ Harry Potter and the Order of the Phoenix, Chapter 37 (The Lost Prophecy)
↑ Harry Potter and the Order of the Phoenix, Chapter 27 (The Centaur and the Sneak)
↑ Harry Potter and the Order of the Phoenix, Chapter 15 (The Hogwarts High Inquisitor)
↑ Harry Potter and the Order of the Phoenix, Chapter 12 (Professor Umbridge)
↑ 16 July, 2005 Edinburgh press conference on Accio Quote!
↑ Harry Potter: Hogwarts Mystery, Year 5, Chapter 1 (Year Five Begins)