"Is this all real? Or has this been happening inside my head?"

The topic of this article is of a real-life subject that has been mentioned "in-universe" in a canon source. The Harry Potter Wiki is written from the perspective that all information presented in canon is true (e.g., Hogwarts really exists), and, as such, details contained in this article may differ from real world facts.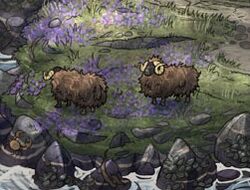 A sheep is a domesticated ruminant mammal of the genus Ovis.[1] It is characterised by its thick, fleecy coat, which is used to make wool.[1]
History
Sheep were the preferred prey of the Antipodean Opaleye and the Common Welsh Green.[2] Hungarian Horntails also preyed on sheep, as well as goats, but would eat humans whenever they could.[2]
The Ancient Greek hero Odysseus slayed Cyclops, a one-eyed giant that lived at the base of Mount Etna, with the help of some sheep.[3]
In the 16th century, Zygmunt Budge moved to the remote island of Hermetray in the Outer Hebrides, where his only company was a flock of sheep that he occasionally used to test out his potions.[4]
The portrait of a Shepherdess, located at Hogwarts Castle, had several sheep within it.[5]
Appearances
Notes and references
*Disclosure: Some of the links above are affiliate links, meaning, at no additional cost to you, Fandom will earn a commission if you click through and make a purchase. Community content is available under
CC-BY-SA
unless otherwise noted.