"Harry, your eyesight really is awful."

The title of this article is transcribed from an image. Due to several factors, including poor image quality and difficult-to-read fonts/handwriting, it may have been transcribed incorrectly. If you have a higher quality version of the source image, or a more accurate reading of the text, please visit this article's talk page.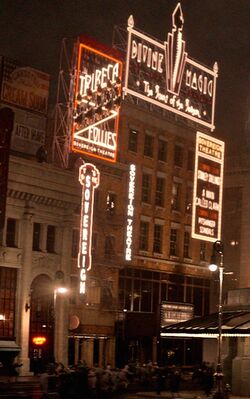 The Sovereign Theatre was a theatre located in Times Square in New York.[1]
In December 1926, a production of Tribeca Follies was running at this theatre, and a sign on the side of the building proclaimed that a production of A Man Called Clark starring Stanley Shilling and another production called Passenger Scandals would be coming soon.[1]
The roof of the building was topped by several billboards, including a neon sign advertising Divine Magic perfume, and two regular billboards for Langston Cream Soda and Lania After Shave.[1]
Appearances
Notes and references
Community content is available under
CC-BY-SA
unless otherwise noted.