Spider-Man: No Way Home Trailer Dropped - The Loop
Play Sound
The Spanish National Quidditch team was the team that represented Spain for international Quidditch tournaments. They wore robes of yellow.
Team special move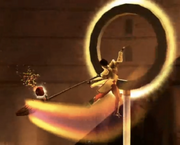 The team's 10-point special move was inspired by dance and bullfighting, playing out as follows: Chaser Carmen Garcia did a powerful throw, then jumped to one end of his broom to lift the Quaffle up in the air, which his fellow Chaser Ana de Lebron caught, spun, and threw to the third Chaser, Chavelle Arbelo Cartaya, who hit it into the goal with his broom.[2]
Stadium
The Spanish National Quidditch Stadium resembled a bull fighting arena. It had huge stands that were made of stone. The whole pitch, including the goal posts and stands, were a rocky brown-colour.
Emblem
The team's emblem had a background of yellow and red vertical stripes with a crown shape on top. There was a spiralling sun in the centre.
Uniform
The team wore robes of yellow with red trimming and tight red trousers with a yellow stripe down the outer side of each leg. For protection, golden shin pads, a chest plate, shoulder pads, and pads covering the lower arm were worn. Fingerless gloves were also worn.
History
Spain were participants of the 1994 Quidditch World Cup.[3]
Spain did not qualify for the 2014 Quidditch World Cup in Argentina.[4]
Squads
Appearances
Notes and references