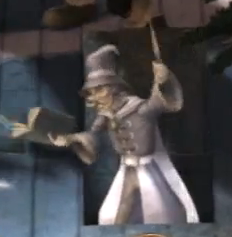 A special effects wizard is a wizard that provides the various effects that may be required in a wizarding play, as well as being responsible for the creation of magical props. These wizards generally pop up from somewhere off-stage, such as a trapdoor beneath the stage's floor, perform the required spell that has the desired effect, and then exit. An example of a play that requires a special effects wizard is Hélas, Je me suis Transfiguré Les Pieds, in which one is needed to provide yellow smoke to accompany Crapaud's foot-transfiguration.
Though these wizards are presumably supposed to stick with the spells the script says to cast, this is not always the case. In a particularly infamous performance of Hélas, Je me suis Transfiguré Les Pieds, the special effects wizard used the Fire-Making Spell instead of conjuring yellow smoke, hoping the effect would liven up what had been a dull performance thus far. However, this merely had the effect of burning down the theatre and ending the play early.
Albus Dumbledore once served as a special effects wizard for an amateur production of The Fountain of Fair Fortune put on at Hogwarts School of Witchcraft and Wizardry by Herbert Beery. He was tasked with creating a functioning Fountain of Fair Fortune and a miniature grassy hill that would sink slowly into the stage as the actors attempted to scale it. Dumbledore believed that the props he created played their parts perfectly, though the play itself was a disaster for other reasons.[1]
Appearances
Notes and references
*Disclosure: Some of the links above are affiliate links, meaning, at no additional cost to you, Fandom will earn a commission if you click through and make a purchase. Community content is available under
CC-BY-SA
unless otherwise noted.