"There are plenty of eye-witness accounts. Just because you're so narrow-minded you need to have everything shoved under your nose before you–"

This article contains a list of appearances, but currently has few or no notes and references. Please help the Harry Potter Wiki by adding notes and/or references to bring this article to a higher standard of quality.
Spello-tape is an adhesive tape that is used in the wizarding world to fix objects that either could not be fixed by a spell, or when magic was not deemed appropriate to the situation.
Known users
Behind the scenes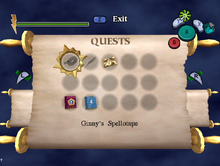 Sellotape is a British brandnamed cellophane adhesive tape. It is similar to Scotch tape in the U.S. This is an example of the numerous puns used in the books.
For learning the Mending Charm in Wonderbook: Book of Spells, the player is granted the PlayStation 3 Trophy "No need for Spellotape."
Appearances