"Spiky Prickly Plants shoot their spikes when you get too close. Avoid them, or use Diffindo to cut their stems"
— Professor Pomona Sprout regarding these plants
Spiky Prickly Plants were bushes that had thorns.[2][3]
Description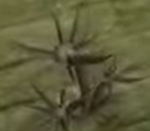 The normal variety were big and green with big yellow thorns growing out of them. They shot these spikes whenever they felt threatened, such as when a Human got too close. To get rid of them, it was recommended one used the Severing Charm to cut their stems. These plants were covered in second-year Herbology classes at Hogwarts School of Witchcraft and Wizardry.[2] However wild Spiky Prickly Plants had thin stems, and were somewhat green with brown thorns growing out. These could not shoot spikes, but it was inadvisable to touch them.[2][3]
Behind the scenes
Given the similarity between the two plants, Spiky Bushes and normal Spiky Prickly Plants may be related.
Appearances
Notes and references