Warning!

At least some content in this article is derived from information featured in Harry Potter: Hogwarts Mystery. Spoilers will be present within the article.
Suits of armour
come in all shapes and sizes, and can be
bewitched
to move and speak. There were many suits of armour in
Hogwarts School of Witchcraft and Wizardry
. During the
Second Wizarding War
,
Professor McGonagall
animated several suits of armour to defend Hogwarts against the oncoming
Death Eaters
. The shields of those suits of armour in the front row were immune to spells, making them ideal for castle protection. During the
Second Wizarding War
the Death Eaters tried to destroy the armour by using the
Killing Curse
, but their shields deflected all oncoming spells. The
Death Eaters
could not defeat them easily, and they maintained the defensive lines of
Hogwarts
.
History
During the 1991–1992 school year and 1992–1993 school year some suits were bewitched by Quirinus Quirrell and Dobby respectively to attack Harry Potter.[1][2]
Peeves once hid inside a suit of armour over Christmas break during the Triwizard Tournament. As the armours were singing Christmas Carols, Peeves began to fill the gaps between lyrics with crude phrases and words. Argus Filch had to extract Peeves from the suits on occasion.
Severus Snape was forced to take refuge behind one during his duel with Minerva McGonagall when she transfigured his fiery serpent into daggers. At this point he could do nothing but force a suit of armour in front of him.
Some participated in the Battle of Hogwarts after being animated via the charm Piertotum Locomotor cast by Professor Minerva McGonagall. It is unknown if they survived the Battle of Hogwarts. If the suits were destroyed in the Battle, it is possible that they were rebuilt. 
Types of armours
Behind the scenes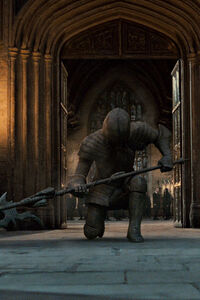 Appearances
Notes and references
Community content is available under
CC-BY-SA
unless otherwise noted.