"There are plenty of eye-witness accounts. Just because you're so narrow-minded you need to have everything shoved under your nose before you–"

This article contains a list of appearances, but currently has few or no notes and references. Please help the Harry Potter Wiki by adding notes and/or references to bring this article to a higher standard of quality.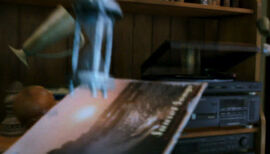 Sunset Songs was a gramophone album. The Muggles who owned the house in Budleigh Babberton where Horace Slughorn stayed while trying to evade Death Eaters in 1996 had a copy of it. When Albus Dumbledore and Harry Potter went to see Slughorn at his hiding place, it set off the Intruder Charm he had cast, and thus he quickly messed up the living room to make it look as if he'd already been found and throw his uninvited visitors off his tracks. In the process, this record was knocked off the shelf on which it was stored, but Dumbledore used a spell to clean the room, returning it to its proper place.
Appearances