Jurassic World: Dominion Dominates Fandom Wikis - The Loop
Play Sound
"Second-year Hogwarts students brew Swelling Solution in Potions class. This potion causes things to grow and expand. Its effects can be reversed with a Deflating Draught."
— Description
The Swelling Solution was a potion which caused whatever it touched to swell in size.[1] Its three ingredients were bat spleens, dried nettles, and puffer-fish eyes.[2] Fermentation was needed before it could be considered a proper stable potion.[4]
History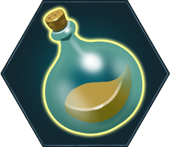 During the 1985–1986 school year at Hogwarts School of Witchcraft and Wizardry, Professor Severus Snape taught his second-year Potions students how to brew this potion.[3]
The trio decided to steal some ingredients for the Polyjuice Potion from Professor Snape's private stores in their second year the day the class tried to make this potion. Harry Potter set off one of his fireworks as a diversion for Hermione Granger to get the necessary ingredients; whether intentionally or accidentally, the firework landed in Gregory Goyle's cauldron, causing the solution to explode across the class, most notably affecting Draco Malfoy, who got it in the face and endured his nose swelling to the size of a melon, and Goyle himself, whose eyes expanded to the size of dinner plates; other afflictions included arms like clubs and gigantic puffed-up lips which rendered speech impossible. Those splashed had to go to Snape for a Deflating Draught.[1]
Brewing instructions
Part 1
Add 2 scoops of dried nettles to the mortar
Add 3 puffer-fish eyes to the mortar
Crush into a medium-fine powder
Add 2 measures of the crushed mix to your cauldron
Add two tablespoons of water to the powder in the cauldron and mix them together
Heat on a medium temperature for twenty minutes
Add some more water to the cauldron and stir the mixture carefully
Wave your wand
Leave to brew and return in 2 hours (Copper), 2 Hours and 30 Minutes (Brass), or 3 hours (Pewter).[2]
Part 2
Add 1 bat spleen to the cauldron
Stir 4 times, anti-clockwise
Heat to low for 30 seconds
Wave your wand to complete the potion[2]
Behind the scenes
Given that every potion's brewing process can only be completed by casting a spell, and that it can vary for each potion, the most likely spell used to complete this potion is the Engorgement Charm.
Appearances
Notes and references