Since when does Lupin resign from his job in OotP --70.176.237.85 05:41, 27 January 2007 (UTC)Megan on an ip
He doesn't and the plural possesive of "marauders" is "marauders", this may be something for future use as there may be only one marauder using it,therefore,"marauder's".--Timbira 03:12, 12 April 2009 (UTC)Timbira
Any1 got a picture of them all as animagi?
Intentions
The intentions of the marauders seems a bit too specific for the map. I don't think they ever specifically intended to exclude Unplottable locations. I think that their first intention should be changed from "To make a map that shows every room and gateway at Hogwarts, except the ones that are Unplottable" to "To make a map that shows every room and gateway at Hogwarts". セレナ(Rin & Sesshōmaru) 23:09, November 17, 2011 (UTC)
Behind the scenes?
Ok, so where it says [In dressing the Marauders for the flashback scene in the film adaptation of Harry Potter and the Prisoner of Azkaban, director Alfonso Cuarón drew inspiration from The Beatles. "James was like Paul -- good looking and sure of himself -- and Sirius was like John, as he was a bit of an anarchic troublemaker. We gave them sideburns, little glasses and longer shirts."] isn't the flashback in OOTP? I'm asking before I edit in case I'm just missing something. Thanks!
SPNstarwarsgeek 01:16, March 23, 2012 (UTC)
Better Picture?
Can we use the picture from I believe Severus Snape's memory from Phoenix or Hallows?
Here is the picture: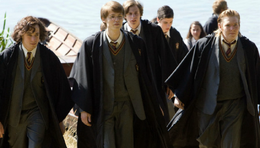 Draliri (talk) 22:39, February 20, 2016 (UTC)
Infobox
Maybe, it's just my computer, but the word unplottable in the intentions part of infobox is invisible, I had to highlight it. Zane T 69 (talk) 23:51, July 12, 2016 (UTC)
Community content is available under
CC-BY-SA
unless otherwise noted.