Since this person is only referred to as "Nott" in the books, I think "Mr. Nott" is inappropriate. If his first name is unknown, that could be stated, but as far as i know he is never referred to as Mr. Nott. Mafalda Hopkirk 12:43, 18 January 2008 (UTC)
Why is that photograph here? I didn't know Nott was Voldemort's classmate. That photo is also on the page of Mulciber. I think they were mentioned as being the Death Eaters who travelled at Hogsmeade to tell Riddle "good luck". I'll remove it.User:Quirinus Quirrell
Sorry! I didn't find on Mu;ciber's page. User:Quirinus Quirrell

The photo you added to not Nott but Unidentified Female Voldemort's return.Note that no pointy hat, but the hood.
Photo
Pardon my asking, but why is there a large black blob on the right side of the photo, between his mask and the hood? Is it perhaps just me eyes? Hunniebunn (talk) 23:40, September 30, 2012 (UTC)
Hmm, I think maybe it is just your eyes. I'm not seeing anything that looks unusual to me. ProfessorTofty (talk) 04:33, February 17, 2013 (UTC)

I've uploaded an image, see below: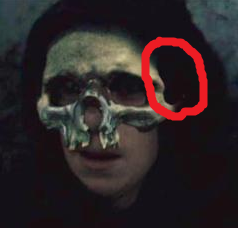 When I look at it head-on, it looks alright, but then I look at it from one side or another and I see the black blob... Don't forget: Elvendork! (It's unisex!) 13:58, February 17, 2013 (UTC)
You're right, I can see it now. I don't know, it almost seems as if someone was trying to cover up a watermark or something. We should see if we can get a better image-- that one's not very high resolution anyway. ProfessorTofty (talk) 04:59, March 8, 2013 (UTC)
Theodore Nott's father
Question:
Why this page say this Nott is Theodore Nott's father? The Nott that in original deatheater seems too old for Theodore's father.
*Disclosure: Some of the links above are affiliate links, meaning, at no additional cost to you, Fandom will earn a commission if you click through and make a purchase. Community content is available under
CC-BY-SA
unless otherwise noted.