Has anyone noticed that the rest of the castle is missing in the infobox image?
--El Profeta Vespertino 10:02, June 16, 2010 (UTC)
But, where is this building?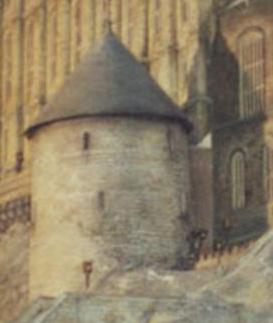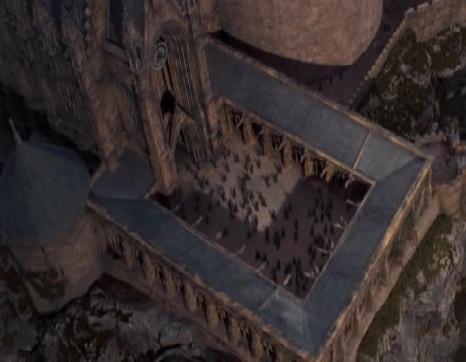 --El Profeta Vespertino 20:04, June 27, 2010 (UTC)
Non-canon
The courtyard is non-canon. J.K. Rowling describes the approach to the castle as a "sloping lawn that leads all the way to the front steps". There is no courtyard, and no viaduct.—The preceding unsigned comment was added by 86.163.2.174 (talk • contribs).
Rename
I've been looking through the Deathly Hallows: Part 2 game files, and in some of them, the courtyard is referred to as "Viaduct Courtyard" (i.e. "hc_viaduct_courtyrd_complete_anim"). This, along with the fact that the courtyard is never mentioned to be outside the Entrance Hall in the main article, would make the article canon, right? --  Seth Cooper  owl post! 18:25, July 21, 2011 (UTC)
Deathly Hallows: Part 2 opening scene
Are we certain the opening scene of Deathly Hallows: Part 2 is set in May of 1998? My first assumption upon watching the film was that this was the arrival of the students on the first of September, as they are coming from the Viaduct (which in Deathly Hallows: Part 2 leads to outside the school grounds). Besides, it couldn't have been in May, as the Gringotts Break-In takes place on 1 May, and this scene was definitely some time before that (so the latest possible time, anyway, would be April). --  Seth Cooper  owl post! 00:17, August 16, 2011 (UTC)
The Cloister in Chamber of Secrets?
"In the film adaptation of Harry Potter and the Chamber of Secrets the cloister walls can be seen."
Is anyone can give a reference image to it? Alan Woodbridge (talk) 04:15, December 19, 2012 (UTC)
Bumping --
The Evening Prophet
(Owl Post) 17:05, April 1, 2013 (UTC)
I'd like to point out that while it says in the trivia section that the courtyard gets bigger in every film, it really doesn't. The only thing changing in that compilation picture is the angle of the camera. I move that this comment in that trivia/behind the scenes section be removed, but keep the picture, cause it provides nice perspectives of the courtyard. Venus rover (talk) 00:41, July 7, 2015 (UTC)
*Disclosure: Some of the links above are affiliate links, meaning, at no additional cost to you, Fandom will earn a commission if you click through and make a purchase. Community content is available under
CC-BY-SA
unless otherwise noted.