"Are you a wizard or not?"

The title of this article is conjectural. Although it is based on canonical information, the actual name is a conjecture and may be supplanted at any time by additional information released from canonical sources. If this occurs, please move this page to the appropriate title.
This classroom was used by Quirinus Quirrell as a temporary Defence Against the Dark Arts classroom[1] while his own was out-of-bounds.[2]
It is located on ground floor level at the Transfiguration Courtyard.[1] The room has four pillars and, in the middle, a pedestal for the teacher.[1][3]
History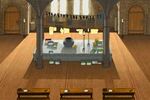 During the 1991–1992 school year, the Defence Against the Dark Arts teacher was Quirinus Quirrell.[4] He used a different classroom because the Third-floor corridor was out-of-bounds.[2]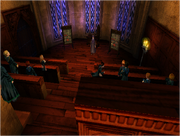 The classroom smelled strongly of garlic, said to be protection against a vampire he had met in Romania and feared was coming back to get him.[4] First years covered the Curse of the Bogies[5] and how to treat werewolf bites,[6] while fifth years studied vampire bats and iguanas.[1]
Behind the scenes
For the film adaptation of Harry Potter and the Philosopher's Stone, scenes in this room were filmed in the Warming Room at Lacock Abbey (in Lacock, Wiltshire, England). The cauldron that sits on the raised platform in the classroom in the film is actually a fixture of the Warming Room; the raised platform conceals the pedestal in which the cauldron stands.
In the GameCube, PC, and Xbox versions of the Philosopher's Stone video game, the classroom has a different to look than in the films. In the game, the teacher's podium is at the bottom of the room, with tiers of seats looking down. The classroom also has a different location, located off a corridor which also houses the door to Fluffy's Chamber.
Appearances
Notes and references