"You will find on the tables before you copies of The Dream Oracle, by Inigo Imago. Dream interpretation is a most important means of divining the future and one that may very probably be tested in your OWL."
The Dream Oracle is a leather-bound book written by Inigo Imago on the subject of dream interpretation[1].
It was required for Professor Trelawney's fifth year divination classes.[1] Professor Trelawney had already set them out on the tables in the Divination Classroom rather than having her students buy them,[1] something unusual at Hogwarts.[2]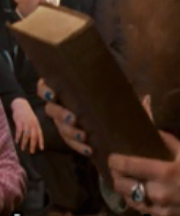 The introduction took twenty minutes to read,[3] and was known to provide some information on dream interpretation.[1]
History
When Trelawney was placed on probation by the High Inquisitor, her frustration made her slamming a copy of The Dream Oracle in between Harry Potter and Ronald Weasley, threw one at Seamus Finnigan that it narrowly missed his ear, and thrust one at Neville Longbottom with such force that he slipped off his pouffe. When everyone was staring at her with surprise, she sarcastically asked them if she is such a substandard teacher that she never taught them how to open the book.[4]
Appearances
Notes and references
Community content is available under
CC-BY-SA
unless otherwise noted.