Jurassic World: Dominion Dominates Fandom Wikis - The Loop
Play Sound
Warning!

At least some content in this article is derived from information featured in Harry Potter: Hogwarts Mystery. Spoilers will be present within the article.
"Is this all real? Or has this been happening inside my head?"

The topic of this article is of a real-life subject that has been mentioned "in-universe" in a canon source. The Harry Potter Wiki is written from the perspective that all information presented in canon is true (e.g., Hogwarts really existed), and, as such, details contained in this article may differ from real world facts.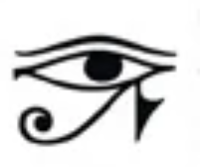 The Evil Eye[1] was an ancient symbol of protection dating back to antiquity.[1]
History
It dated back to ancient Greece and Rome, where it was worn as a protective amulet to protect the bearer from evil forces.[1] By the 20th century, a cabal of Dark Wizards known as 'R' appeared to use the Evil Eye as their emblem: The renowned Curse-Breaker Patricia Rakepick,[2] a minor player in the cabal's activities, and the more senior member, Verucca Buckthorn-Snyde,[3] both wore identical pins featuring this symbol. Its leader, Peregrine, had the symbol printed into the leather of his coat.[4]
Behind the scenes
When depicting the originally Greek symbol of the evil eye in the game, Jam City used the Egyptian Eye of Horus for the visual.
While the iconic symbol of the evil eye has been associated with protection from bad luck and evil, as amulets or talismans worn to protect the bearer against the evil eye are also frequently called "evil eyes",[5] the term is more commonly used to refer to the a curse cast to cause misfortune or injury.
According to folklore, wearing the evil eye as a protective talisman or amulet it is supposed to ward off curses cast by "a malevolent glare".[6] This is said to include (but is not limited to), the deadly stare from a Basilisk and the petrifying gaze of a Gorgon,[7] It is unknown, however, if the purported power that the symbol has to ward off either of these if worn as a protective amulet have been carried over into canon.
Appearances
Notes and references