The following is a list of known articles published in The New York Ghost.
VOL. LVI NO. 171187 - DAILY (TUESDAY)
Recruitment
Index

Moon & Sun Aspects

Grindelwald: Deadly Wizard Evades Capture

Editorial

The MACUSA Index of Magical Exposure Threat

- No. 22.77
VOL. LXVIII NO. 221254 - DAILY (SUNDAY)
The Monthly Werewolf Watch

(p. 31)

Weather

Romance in Runes

Reading the signs in your relationship

(p. 10)

Hem-Line

Our Resident Seamstress Solves your fashion faux pas!

(p. 16)

Index

Recruitment

(p. 3)

Potions

(p. 6)

Spells

(p. 7)

International

(p. 8)

Little Wizards

(p. 9)

Moon & Sun Aspects
CounsOwl
Gellert Grindelwald: Dark Wizard Strikes Again in Europe - (by

N. Lima

& A. Tolipan - London, Paris and

Zagreb

)

(continue p. 2, column 7)

Culture

(section 7, p. 8 & 11)

Sports

Essential timeline and in-depth interviews with top players (Quidditch Special p. 19)
Quidditch Quick-Fire The Inter-State League in One Swift Summary (Quidditch Corner p. 7)

Wizbiz

'Pincushion' Pygmy Puff Extricated from No-Maj Haberdashery
Baltimore Bride Confesses to Permanent Sticking Charm - (Baltimore - Maryland)

Special Report

Recruitment

Become an Obliviator!

(more details p. 4)

Regulators Examine Use of Engorgement Charm in Home Improvement
Herbologist Attacked by Mandrakes
Editorial -

(by E. L. Filhus)

Picquery Condemns Voodoo Leniency -

(MACUSA Headquarters - NYC)

Warlocks Dispute Recent Ruling Over Crystal Ball Regulation -

(by Divination Correspondent)

Mystery Poltergeist Wreaks Havoc in Nashville Diner - (by

Tennessee

Correspondent)
U Hex A! ad
The MACUSA Index of Magical Exposure Threat - No. 25.228
Tabby Talk
Weekend Breaks by Broom
Basic Witch
Hex-It
1 December 1926 Sunset Final Edition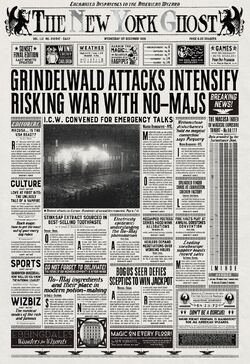 2 December 1926 Sunset Final Edition
Wicked Wireless
Picquery Calls For Calm -

(MACUSA Headquarters - NYC)

Gellert Grindelwald marshals Dark wizards -

(Ministry of Magic - London)

Culture
Sports

Gobstone Gallery: Team U.S.A's Success Throughout the Years

Wizbiz

The Token Titbit: Gossip you can't be deprived of

Special Report
Japanese Kappa Washed Up on Western Seaboard - Aurors drafted in to placate befuddled Santa Barbara No-Maj

sheriff

Baltimore Broomstick Ban Continues

Enchantress

Rejects Claims of Foul Play in Beauty Pageant
Flobberworm Mucus Boosts Infant Immunity, Say Healers
Dragonologists warn against hazardous pesticides
President Seraphina Picquery Statement in Full

Other News

The MACUSA Index of Magical Exposure Threat - No. 99.547
Editorial

Animagi Campaign For

Animal Welfare

Darn it - Re-charm your rags! ad

Genealogy

- Magical skills to harvest from your ancestors
Weather
Index
Improve Your Foxtrot with a Tarantallegra Charm ad
Games

Spot the Snargaluff
Rune Riddles
Pygmy Puff Pelmanism
6 December 1926 Sunrise Early Edition
No-Majs in Grave Danger Warns Piquery -

(MACUSA Headquarters - NYC)

Culture
Wizbiz

Hallowe'en sees record-breaking sales of No-Maj brooms - Invenstment Opportunity?

Is Anyone Safe? Grindelwald Spreads Fear Worldwide -

(MACUSA Headquarters - NYC)

Other News

Entertainer Convicted after Public Magical

Juggling

Display
Idahoan Foxtrot Dancer Caught Drunk behind Broom after Claiming Prize
Prehistoric Manuscripts Prompts Doubt over Wandlore Dates
Confounded No-Majs Misunderstand Crucial

Democratic Vote

Scourer descendants in magical identity crisis - Heir reveals blight on family, seeking freedom from 'magical shackles'
Family Poltergeist Goes AWOL Following Altercation - Otherwise clement 'uncle Edward' jeopardizes wizard secrecy at family picnic in Central Park, hurling baked goods at No-Maj passers-by
MACUSA Officials Demand More Witches in the Workplace
Venomous Tentacula Traps Burglar in Tenements Robbery
Editorial

Grindelwald's Stratagem? World Domination?

The MACUSA Index of Magical Exposure Threat - No. 99.885
We Need Obliviators! MACUSA is Recruiting - If you think you have what it takes to become an obliviator at MACUSA...
CounsOwl

Lunar Low-down

Weather
Index
Moon & Sun Aspects
6 December 1926 Sunset Final Edition
Frontpage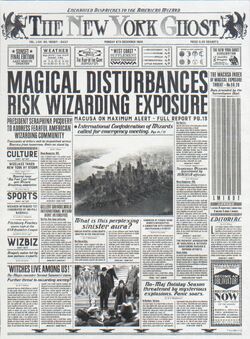 Weather

Book of the Week

: The Flap of the Cape

West Coast Supplement

- every Thursday
Index
Moon & Sun Aspects
Magical Disturbances Risk Wizarding Exposure

MACUSA on Maximum Alert - Full Report Pg. 13
International Confederation of Wizards called for emergency meeting. Pgs 15/17
President Seraphina Picquery to Address Fearful American Wizarding Community

Thousands of letters will be dispatched across America from tomorrow. Owls on stand by -

(MACUSA Headquarters - NYC)

Culture
Sports
Wizbiz
Gellert Grindelwald International Wizard Hunt Intensifies - (New York, Paris, London, and Caxambu)[1]
"Witches Live Among Us!" - No-Majes consider Second Salemers' claim

Further threat to wizarding secrecy?

What is this perplexing sinister aura?
Hundreds of Forged Wand Permits Intercepted. A Connection With Current Unexplainable Events?
Suspicious Wizards Questioned by MACUSA Officials -

(MACUSA Headquarters - NYC)

The Midwest Association of Warlocks and Witches Questioning MACUSA's Defence Efforts - (Chicago, Illinois)
No-Maj holiday season threatened by mysterious explosions. Panic soars. - (

No-Maj Bureau

- New Jersey)
The MACUSA Index of Magical Exposure Threat - No. 50.26
Recruitment
Back
7 December 1926 Sunset Final Edition
Weather
Recruitment

Divination Supplement

- every Friday
Index
Moon & Sun Aspects
Prominent No-Maj Killed by Magical 'Beast': MACUSA Headquarters raises security level -

(MACUSA Headquarters - NYC)

No-Maj

Senator

brutally murdered, hundreds of people injured. Panic soars! Pg. 2

Culture
Sports

Wizards Baffled! Is Soccer the No-Maj's Quidditch?
USA Quidditch League Top Players in forbidden potions SCANDAL (Quidditch Corner p. 7)

Wizbiz
Major Investigation Department hunting all wanted criminals
Aurors to Shut Down Speakeasies Around the Country
President Seraphina Picquery calling for all Aurors to be on full alert: International support not yet confirmed. -

(MACUSA Headquarters - NYC)

MACUSA and The I.C.W. to crack down on illegal wizards
No-Majes in total Panic! MACUSA to protect agitated New York population
Editorial

Scared parents asking Ilvermorny School to hold all students during the holiday season

The MACUSA Index of Magical Exposure Threat - No. 67.26
Public Notice

Be Vigilant!
Be Prepared!
Be Safe!
Fearless Porpentina Goldstein (Re)Appointed as Auror
President Picquery to award Ms. Goldstein
Grindelwald Extradition Date Confirmed
Special Report: Is the wizarding world now at peace?
Other News: Alaska warlocks suspected in contraband
International Confederation of Wizards summit to take place in London
Culture
Sports

Gobstone Gallery: Team USA's success throughout the years

The MACUSA Index of Magical Exposure Threat - No. 101.923
Genealogy: Magical Skills
Weather
Improve your Fox Trot
Games
30 May 1927 Sunrise Early Edition
Grindelwald Extradition to Europe
International Confederation of Wizards Summit to take place in London
Presidential affairs
Editorial

Is the wizarding community now at peace?

Alaska warlocks suspected of contraband
Culture

Hit Broadway Musical 'Oh Rosana!' to enjoy wizarding adaptation
"You are Jazzed!" The ultimate jinx

Sports

Snitch stolen! Quidditch players baffled

Wizbiz
President Picquery to receive ICW prestige honor
How to identify an Obscurus
Major International operation in place
Obliviation emergency: tipsy No-Maj trapped in MACUSA revolving door
Squee! Wizards flee Blind Pig
Ilvermorny to introduce Creature Care Curriculum
Wolfsbane seeds found in No-Maj nursery
Confirmed: Caxambu water is magical and powerful
Presidential affairs
Ministry of Magic Aurors on Full Alert
End of the Rainbow "I Found the Treasure" Claims Free House Elf
The MACUSA Index of Magical Exposure Threat - No. 102.225
Weather
Moon & Sun Aspects
Divination Supplement !Every Friday!
Games
Firecracker Fitness: Pyrotechnics Aerobics
Wicked Wireless: Jazzy tuned to make you swoon
Revolutionize your rodent: nutritious feed to get the whiskers twitching
Tonight's Sky: Look out for constellations
Spirit & Spook: Your haunted portion
Leisure By Measure: Life balance solved through alchemy
Hi-Jinx & Havoc
Romance in Runes: Reading the Signs in your relationship
Obituary
Travel
Weekend Breaks by Broom - This week's hit spot: Nashville
Tabby Talk: Build better bonds with your feline friends
Basic Witch: How average is your spellwork?
Hex-It!
Games: Wizard's Checkers
Rune Riddles
In the next edition of The Ghost
Unknown date
I
II
Vogue For Divination Studies: Ilvermorny School to Offer Extracurricular Xylomancy
Travel - Favorite Portkeys
Central Park Spectre...
Weekend Sojourns by Broom
Celestial Update
The Lunar
No-Maj Trapped in MACUSA Revolving Door
Public Notice: !Be Vigilant! ... !Be Prepared! ... !Be Safe! ...
Dark Wizard Terror Threat
III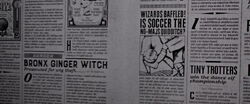 IV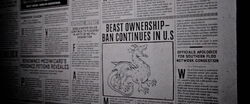 V
VI
... Gloves ...Smitten with his mittens
Pukwudgie Sighting: Confirmed as Hoax
Enchanted Snow Bewitches No-Maj Shoppers in Times Square - Obliviators are drafted in to undo the unfavourable incident
Anti-Wizard Sentiment On The Rise
Spell-casting overload in tenements causes havoc!
VII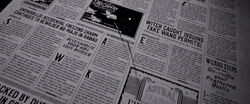 VIII
Appearances
See also
Notes and references