"Are you a wizard or not?"

The title of this article is conjectural. Although it is based on canonical information, the actual name is a conjecture and may be supplanted at any time by additional information released from canonical sources. If this occurs, please move this page to the appropriate title.
There were battlements all around the top of The Quad, at Hogwarts Castle. The interior consists of a long wooden platform, with short ends that lead to the catwalks on the outside. At the end of one side is a glass window, where it would eventually be shattered during the Battle of Hogwarts.
History
1997-1998 School Year
At some point during the school year, Severus Snape is standing on one of the catwalks overlooking the Viaduct Courtyard as students marched down it.
The Battle of Hogwarts
These battlements were used by the Hogwarts defence during the Battle of Hogwarts. They were heavily damaged during the course of the battle, with parts of the floor falling in, revealing the corridors below.[1]
Towards the end of the battle in Harry Potter and the Deathly Hallows: Part 2, Voldemort would strangle Harry with his own cloak, followed by repeatedly attacking Harry with force following the Death of Bellatrix Lestrange. This is also where Harry tells Voldemort the real truth about the Elder Wand's Allegiance prior to throwing themselves down to the ravine.
Behind the Scenes
Appearances
Notes and references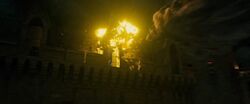 <section class="pi-item pi-group pi-border-color"></section>