Jurassic World: Dominion Dominates Fandom Wikis - The Loop
Play Sound
Warning!

At least some content in this article is derived from information featured in Harry Potter: Hogwarts Mystery. Spoilers will be present within the article.
"Harry pointed his wand straight at Malfoy and shouted, 'Rictusempra!' A jet of silver light hit Malfoy in the stomach and he doubled up, wheezing....as Malfoy sank to his knees; Harry had hit him with a Tickling Charm, and he could barely move for laughing."
— Harry Potter's use of this charm on Draco Malfoy at the Duelling Club
The Tickling Charm[1] (Rictusempra)[1] was a charm that caused the target to buckle with laughter, weakening them.[1][4] It also had at least one other side effect.[5]
History
This charm was listed in the The Standard Book of Spells, Grade 2 spell-book by Miranda Goshawk.[4] This charm was also taught at Hogwarts School of Witchcraft and Wizardry to second-year students in Charms class[6] and in Defence Against the Dark Arts.[7]
During the 1984–1985 school year at Hogwarts School of Witchcraft and Wizardry, Rowan Khanna and their friend Jacob's sibling learnt this charm from a secret duelling book in their house common room, as preparation for duelling the Slytherin Merula Snyde.[3]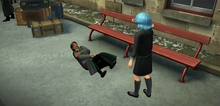 During the 1989–1990 school year, Rowan Khanna and Jacob's sibling both cast the charm on each other at Hogsmeade station, because both of them felt that the neither of them had properly laughed in a long time.[8]
The Tickling Charm was usually used as a diversionary tactic in duels.[1][3] Harry Potter used it on Draco Malfoy at the Duelling Club during their second year, in December 1992.[1]
During Dumbledore's Army's meetings during the 1995–1996 school year, the Tickling Charm was practised by the group, along with many other defensive and offensive spells. Harry Potter, Ron Weasley and Hermione Granger practised the spell on Zacharias Smith after he asked to learn the spell, much to his annoyance.[9]
In September 2020, Harry Potter used this spell again against Draco Malfoy, whilst duelling him in his home, but Draco managed to block the spell with a chair.[10]
Known practitioners
Etymology
"Rictusempra" is derived from the Latin "rictus", meaning "the expanse of an open mouth", and the Latin "semper", meaning "always". Overall, the incantation roughly means "always laughing".
See also
Behind the scenes
This is the first incantation Harry Potter has done verbally and with a wand in the series. He used it during his duel against Draco Malfoy in the second book and film.
In the film adaptation of Harry Potter and the Chamber of Secrets, Malfoy is simply knocked backwards. The same occurs in the game version, as well as in the game versions of Prisoner of Azkaban and Order of the Phoenix, where it is treated as a minor offensive spell, rather than a tickle charm (though the instruction manual for Prisoner of Azkaban's PC version describes it as "technically a tickling charm"). The use of it in the film could be because as Harry was an inexperienced wizard at that point, he may not have been able to master the spell properly, thus causing a different effect. Also, in the film and video game(s), it is red or pink rather than silver.
It can be bought at Wiseacre's Wizarding Equipment in Diagon Alley in LEGO Harry Potter: Years 1-4,[12] and in Weasleys' Wizard Wheezes in LEGO Harry Potter: Years 5-7.[13]
There is another similar spell, the Tickling Hex; it is unknown how they differ. It can presumed that the Tickling Hex would cause a less desirable effect, considering that is a Dark charm.
In the Harry Potter and the Chamber of Secrets video game, Harry Potter learns this spell from Gilderoy Lockhart. He later uses it against Aragog, commenting that he at least learned something in Lockhart's classes.
In Harry Potter: Hogwarts Mystery, it is the first offensive spell used by Jacob's sibling in the story. It can also be used in Duelling as a Sneaky move, dealing 5 base damage (lowest of any damaging move), boosted by high Empathy, and has a chance to stun the target for 1 round.
Appearances
Notes and references