Warning!

At least some content in this article is derived from information featured in Harry Potter: Hogwarts Mystery. Spoilers will be present within the article.
Tilly Toke, O.M. (First Class), (1903-1991) was a British witch who saved the lives of several Muggles during the Ilfracombe Incident in 1932.[2]
Biography
Holidaying in Ilfracombe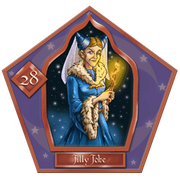 Tilly had been holidaying with her family in Ilfracombe, in Devon in 1932. One day, a rogue Common Welsh Green dragon swooped down upon the beach, full of sunbathing Muggles. Along with her family, Tilly fended off the attack, thus preventing any fatalities. The family then proceeded to perform "the largest batch of Memory Charms this century" on the inhabitants of Ilfracombe.[2]
The Toke family were all awarded Order of Merlin, First Class, for their heroic actions in Ilfracombe.[2] She was also immortalised on a bronze Chocolate Frog Card for her achievement.[1]
Postmortem
In 1993, a portrait of Tilly was hung at the first-floor corridor of Hogwarts Castle, protecting a secret area. A password was needed to access it, which was Dirigible.[3]
Magical abilities and skills
Charms: Toke was shown to be proficient with the casting of the Memory Charm, as she used it to erase the memories of numerous Muggles who witnessed a dragon at the Ilfracombe Incident, which earned her an Order of Merlin first class award for her impressive work.[2]
Behind the scenes
Tilly Toke's canonical physical appearance is unclear; in Harry Potter: Hogwarts Mystery, she is shown to have black hair with brown eyes, but in all other Chocolate Frog Card appearances prior, she is blonde and blue-eyed.
Appearances
Notes and references