This cardboard box was used by young Tom Riddle to store his collection of objects stolen from other children at Wool's Orphanage in the 1930s, which included a Lucamelody Blues Special harmonica, a silver thimble, and a red yo-yo.[1][2] He kept the box hidden in the wardrobe of his room at the orphanage.[1][2]
Behind the scenes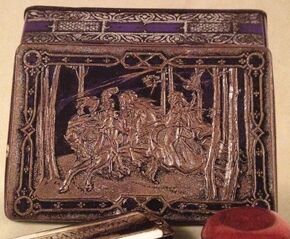 In the film adaptation of Harry Potter and the Half-Blood Prince, Tom Riddle uses a tin to store his collection of stolen items, instead of the cardboard box he uses in the novel.
The tin used in the film is a Riley's Toffee tin manufactured circa 1950, which make its appearance an anachronism, as the scene in which it is featured is set in 1937.[3] The company that made these sweets was founded in 1907 by brothers Fred Riley and J.H Riley and originally operated out of Halifax, West Yorkshire, England.[4] In 1953, the death of J. H. Riley prompted Fred Riley to sell the company, and Riley's Toffee was thereafter manufactured by a series of different companies before being discontinued in the mid-1990s.[4] The product was revived in 2008 by Freya Sykes, the great-grandniece of the original founders.[4]
Appearances
Notes and references
Community content is available under
CC-BY-SA
unless otherwise noted.