Jurassic World: Dominion Dominates Fandom Wikis - The Loop
Play Sound
Warning!

At least some content in this article is derived from information featured in Harry Potter: Hogwarts Mystery. Spoilers will be present within the article.
"Mimblewimble, which prevents your opponent from accurately casting their next spell."
— Gilderoy Lockhart on the usefulness of a Tongue-Tying Curse in a duel
The Tongue-Tying Curse (Mimblewimble),[1] also known as the Tongue-Tying Spell,[3] was a curse that tied the target's tongue in a knot, preventing them from making coherent speech. This feature also allowed one to prevent the victim from speaking the incantations of spells correctly, and hence like the Silencing Charm it was useful in duelling (though can be overcome with more advanced magic).[2] It was covered in the book Curses and Counter-Curses, authored by Professor Vindictus Viridian.[5]
History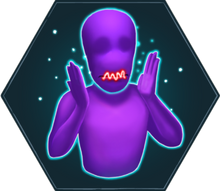 During the 1988–1989 school year at Hogwarts School of Witchcraft and Wizardry, Professor Patricia Rakepick taught this curse to her fifth year Defence Against the Dark Arts students.[4]
In 1989, Bill Weasley willingly allowed Jacob's sibling to cast this spell on him in an effort to amuse Peeves the poltergeist and get him to disclose the whereabouts of the Weasley twins.[6]
On 31 July 1991, when Rubeus Hagrid found out that Harry Potter had been told nothing of the wizarding world, he angrily rounded on the Dursleys, at which point Harry heard his Uncle Vernon whisper "something that sounded like 'Mimblewimble'",[7] which was ironic considering Vernon was a Muggle with no knowledge of spells.
In late 1992, this spell was taught by Gilderoy Lockhart during the Duelling Club to help students to better defend themselves.[2]
"'We're not Snape!' croaked Harry, before something whooshed over him like cold air and his tongue curled backwards on itself, making it impossible to speak. Before he had time to feel inside his mouth, however, his tongue had unravelled again."
— The effects of this curse on Harry Potter in 12 Grimmauld Place
In 1997, Alastor Moody set up several curses to protect the Order of the Phoenix headquarters at 12 Grimmauld Place. One of these curses was this spell. It was placed to prevent Severus Snape from revealing the area's location to Lord Voldemort, as the properties of the Fidelius Charm protecting the house made Snape a Secret-Keeper when Albus Dumbledore died. The curse was intended to both "keep him out and bind his tongue if he tried to talk about the place." It is unknown what would occur if Snape tried to write the location on paper, which would also have passed on the secret of the house's location.[8]
Harry Potter, Ron Weasley, and Hermione Granger were affected by this curse when they sought refuge at 12 Grimmauld Place after fleeing Death Eaters in 1997. A sensation of cold air whooshed over them, causing their tongues to curl backwards, making it impossible for them to speak. Though their tongues soon unravelled again, Ron made retching noises and Hermione stammered for a while afterwards.[8]
Known practitioners
Behind the scenes
See also
Appearances
Notes and references