Jurassic World: Dominion Dominates Fandom Wikis - The Loop
Play Sound
"Transfiguration is some of the most complex and dangerous magic you will learn at Hogwarts. Anyone messing around in my class will leave and not come back. You have been warned."
— Professor McGonagall's introduction of the subject
Transfiguration was a core class and subject taught at Hogwarts School of Witchcraft and Wizardry,[2] Ilvermorny School of Witchcraft and Wizardry and Uagadou. It taught the art of changing the form and appearance of an object or a person. This type of magic was commonly referred to as "Transfiguration" and was considered both complex and dangerous.[2]
There were limits to Transfiguration, which were governed by Gamp's Law of Elemental Transfiguration.[6] There were also many branches of Transfiguration, including Trans-Species Transformation and Human Transfiguration. This type of magic was regarded as "very hard work" and was "more scientific" than charms-work, as one had to get it exactly right for the transfiguration to be successful.[7]
The professor of this subject for many years was Albus Dumbledore and later Minerva McGonagall. It is unknown who the teacher was before Professor Dumbledore and who took over when Professor McGonagall became headmistress of Hogwarts.
Students at Uagadou School of Magic were exceptionally skilled in transfiguration, specifically, Human Transfiguration, meaning the teaching of this subject was likely excellent at the school.[8]
Class information
"I do not accept students into N.E.W.T. classes unless they have achieved 'Exceeds Expectations' or higher at Ordinary Wizarding Level."
— Professor McGonagall on the increased difficulty in N.E.W.T.-level Transfiguration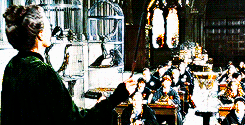 Transfiguration was a required subject for all first year to fifth year students, with the option of a N.E.W.T. (Nastily Exhausting Wizarding Test) course in sixth and seventh year. Minerva McGonagall was the Transfiguration Professor from 1956 until 1998, the year in which she became Headmistress of the school. Before her, Albus Dumbledore taught Transfiguration. It is unknown who became the Transfiguration professor after she became Headmistress of Hogwarts. McGonagall believed Transfiguration to be more elegant and superior to other types of magic.
Students practised actual transfigurations during classes.[2] Accidents sometimes resulted in partial transfigurations, and theoretical homework was sometimes assigned. The further into a student's education, the more difficult the classwork and homework became.[9][10][11]
In fifth year, students took, the Ordinary Wizarding Level examination, much of the year was spent learning Ordinary Wizarding Level material, as well as revisiting the past four years of lessons. As part of their Transfiguration O.W.L., students had to sit a written exam, and then complete a practical exam; one of the questions on the written exam asked the definition of Switching spells and one practical aspect of the exam was Vanishment.[12] In order to advance to N.E.W.T.-level for the final two years of education, a student had to achieve a high O.W.L. score of either 'Outstanding' or 'Exceeds Expectations' on their exam.[13][14] The casting of nonverbal spells was required for N.E.W.T.-level Transfiguration.[11]
Like charms work, Transfiguration was achieved through concentration, precise wand movements, and the proper pronunciation of an incantation. However, it was generally more difficult than Charms and required great effort.[7]
While Professor McGonagall was teaching the class, she was fair but strict, having no tolerance of silliness and threatening to dismiss any students who dared to fool around.[2] She refused leniency for her students based on emotional circumstances. She refused to let her students play games in her classroom for the upcoming Yule Ball (as Filius Flitwick did because his students were too distracted by the exciting events),[15] and even Katie Bell knew full well that Minerva would give her homework on the day right after being discharged from St Mungo's Hospital for Magical Maladies and Injuries for a near-death experience.[16]
She refused to accept any students into her N.E.W.T. classes unless they achieved at least 'Exceeds Expectations', believing that those who have anything below would be unable to cope with the increased coursework.[14] Failure to hand in assigned homework would result in detention, as Draco Malfoy experienced after he failed twice during 1996.[17]
Both an O.W.L. and a N.E.W.T. in Transfiguration was compulsory for both Auror and Healer training, at either "Exceeds Expectations" or "Outstanding" level.[13]
Location and time
Transfiguration classes were held in Class 1 on the first-floor, Class 34 on the third-floor, Class 99 in the South Tower and Classroom 1B on the ground-floor, around the Middle Courtyard. Classroom 1B was large in size, surrounded by high windows, had four rows of three desks, and still had enough room for several cages and bookshelves, two chalkboards, and a desk for the teacher. Several candlesticks stood lit behind the desk.
Lesson times
Year
Day
Period
First
Thursday
second
Second
Tuesday
first
Wednesday
second
Thursday
fourth
Third
Monday
third
Thursday
second
Fourth
morning
Fifth
Tuesday
fourth
Wednesday
third
Sixth
Friday
morning
Seventh
unknown
unknown
Curriculum
First year
"Professor McGonagall watched them turn a mouse into a snuff box."
— First year exam in 1992
The transformation formula, which is that the intended transformation is directly influenced by bodyweight (a), viciousness (v), wand power (w), concentration (c), and a fifth unknown variable (Z).[18]
Desk Into Pig

(not practically)

[2]
Second year
"He was supposed to be turning a beetle into a button, but all he managed to do was give his beetle a lot of exercise as it scuttled over the desk top avoiding his wand."
— A lesson on turning beetles into buttons
Third year
Fourth year
"The guinea-fowl they had been changing into guinea-pigs had been shut away in a large cage on Professor McGonagall's desk (Neville's still had feathers)..."
— After a lesson transformation
Fifth year
"So... today we are starting Vanishing Spells. These are easier than Conjuring Spells, which you would not usually attempt until N.E.W.T. level, but they are still among the most difficult magic you will be tested on in your O.W.L."
— McGonagall teaching a 1995 lesson on Vanishment
Sixth year
"Harry barely understood half of what Professor McGonagall said to them these days; even Hermione had to ask her to repeat instructions once or twice."
— The increased difficulty during sixth year
Seventh year
Known professors
Required textbooks
Grades
Known O.W.L.s
Branches of Transfiguration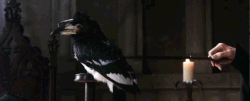 See also
Behind the scenes
Appearances
Notes and references
↑ 1.0 1.1 Harry Potter and the Chamber of Secrets, Chapter 17 (The Heir of Slytherin)
↑ 2.0 2.1 2.2 2.3 2.4 2.5 2.6 2.7 2.8 Harry Potter and the Philosopher's Stone, Chapter 8 (The Potions Master)
↑ 3.0 3.1 3.2 Harry Potter and the Philosopher's Stone, Chapter 5 (Diagon Alley)
↑ 4.0 4.1 Harry Potter and the Prisoner of Azkaban, Chapter 4 (The Leaky Cauldron)
↑ 5.0 5.1 5.2 Harry Potter and the Goblet of Fire, Chapter 20 (The First Task)
↑ Harry Potter and the Deathly Hallows, Chapter 15 (The Goblin's Revenge)
↑ 9.0 9.1 Harry Potter and the Goblet of Fire, Chapter 15 (Beauxbatons and Durmstrang)
↑ 10.0 10.1 10.2 Harry Potter and the Order of the Phoenix, Chapter 13 (Detention with Dolores)
↑ 11.0 11.1 11.2 Harry Potter and the Half-Blood Prince, Chapter 11 (Hermione's Helping Hand)
↑ 12.0 12.1 12.2 Harry Potter and the Order of the Phoenix, Chapter 31 (O.W.L.s)
↑ 13.0 13.1 Harry Potter and the Order of the Phoenix, Chapter 29 (Careers Advice)
↑ 14.0 14.1 14.2 Harry Potter and the Half-Blood Prince, Chapter 9 (The Half-Blood Prince)
↑ Harry Potter and the Goblet of Fire, Chapter 24 (Rita Skeeter's Scoop)
↑ 16.0 16.1 Harry Potter and the Half-Blood Prince, Chapter 24 (Sectumsempra)
↑ 17.0 17.1 Harry Potter and the Half-Blood Prince, Chapter 12 (Silver and Opals)
↑ Harry Potter and the Philosopher's Stone, Chapter 9 (The Midnight Duel)
↑ Harry Potter and the Philosopher's Stone, Chapter 16 (Through the Trapdoor)
↑ Harry Potter and the Chamber of Secrets, Chapter 6 (Gilderoy Lockhart)
↑ Harry Potter and the Chamber of Secrets, Chapter 16 (The Chamber of Secrets)
↑ Harry Potter and the Chamber of Secrets (film) - Chapter 14 (About the Chamber)
↑ Harry Potter: Hogwarts Mystery, Year 2, Chapter 1 (Year Two Begins) - Transfiguration Lesson "Reparifarge"
↑ Harry Potter: Hogwarts Mystery, Year 2, Chapter 6 (Bill Weasley) - Transfiguration Lesson "Spongify"
↑ Harry Potter: Hogwarts Mystery, Year 2, Chapter 9 (Wizards Unite!) - Transfiguration Lesson "Porcupine to Pin Cushion"
↑ 30.0 30.1 Harry Potter and the Prisoner of Azkaban, Chapter 6 (Talons and Tea Leaves)
↑ Harry Potter and the Prisoner of Azkaban, Chapter 16 (Professor Trelawney's Prediction)
↑ Harry Potter: Hogwarts Mystery, Year 3, Chapter 9 (The Vault of Fear) - Transfiguration Lesson "Mice to Snuffbox"
↑ Harry Potter: Hogwarts Mystery, Year 3, Chapter 3 (Three Broomsticks) - Transfiguration Lesson "Felifors"
↑ Harry Potter: Hogwarts Mystery, Year 3, Chapter 5 (Tulip Karasu) - Transfiguration Lesson "Duro"
↑ Harry Potter: Hogwarts Mystery, Year 3, Chapter 7 (Jacob's Room) - Transfiguration Lesson "Owl to Opera Glasses"
↑ 37.0 37.1 37.2 Harry Potter and the Goblet of Fire, Chapter 22 (The Unexpected Task)
↑ Harry Potter: Hogwarts Mystery, Year 4, Chapter 3 (All About Bowtruckles) - Transfiguration Lesson "Evanesco"
↑ Harry Potter: Hogwarts Mystery, Year 4, Chapter 5 (Time to Fly) - Transfiguration Lesson "Vera Verto"
↑ Harry Potter: Hogwarts Mystery, Year 4, Chapter 10 (Seeing Red) - Transfiguration Lesson "Orchideous"
↑ Harry Potter: Hogwarts Mystery, Year 4, Chapter 12 (Working with Snape) - Transfiguration Lesson "Serpensortia"
↑ Harry Potter: Hogwarts Mystery, Year 4, Chapter 14 (The Spider's Lair) - Transfiguration Lesson "Colovaria"
↑ Harry Potter: Hogwarts Mystery, Year 4, Chapter 8 (Sickleworth) - Transfiguration Lesson "Beetle to Button"
↑ Harry Potter and the Order of the Phoenix, Chapter 14 (Percy and Padfoot)
↑ Harry Potter: Hogwarts Mystery, Year 5, Chapter 11 (Mundungus Fletcher) - Transfiguration Lesson "Switch: Piggy Bank & Guinea Pig"
↑ Harry Potter: Hogwarts Mystery, Year 5, Chapter 17 (Broken Bonds) - Transfiguration Lesson "Switch: Top Hat & Rabbit"
↑ Harry Potter: Hogwarts Mystery, Year 5, Chapter 20 (Peter Pettigrew) - Transfiguration Lesson "Switch: Pillow & Armadillo"
↑ Harry Potter: Hogwarts Mystery, Year 5, Chapter 24 (Dark Pranks) - Transfiguration Lesson "Switch: Tortoise & Hare"
↑ Harry Potter and the Order of the Phoenix, Chapter 30 (Grawp)
↑ Harry Potter and the Order of the Phoenix, Chapter 15 (The Hogwarts High Inquisitor)
↑ Harry Potter and the Order of the Phoenix, Chapter 26 (Seen and Unforeseen)
↑ Harry Potter: Hogwarts Mystery, Year 5, Chapter 5 (Penny, Portraits, Peace, and Pressure) - Transfiguration Lesson "Feather Duster to Ferret"
↑ Harry Potter: Hogwarts Mystery, Year 5, Chapter 30 (Into the Vault) - Transfiguration Lesson "Goldfinch to Golden Snitch"
↑ Harry Potter: Hogwarts Mystery, Year 5, Side Quest "Valentine's Day"
↑ Harry Potter: Hogwarts Mystery, Year 5, Side Quest "Festival Fun"
↑ 56.0 56.1 Harry Potter: Hogwarts Mystery, Year 5, "Ordinary Wizarding Levels" Achievement
↑ 58.0 58.1 58.2 Harry Potter and the Half-Blood Prince, Chapter 15 (The Unbreakable Vow)
↑ 59.0 59.1 59.2 Harry Potter and the Half-Blood Prince, Chapter 14 (Felix Felicis)
↑ Harry Potter: Hogwarts Mystery, Year 6, Chapter 9 (Artefact Check) - Transfiguration Lesson "Avis"
↑ 61.0 61.1 61.2 61.3 61.4 Harry Potter: Hogwarts Mystery, Year 6, Chapter 1 (Year Six Begins) - Transfiguration Lesson "Cauldron Cakes to Cabbages"
↑ Harry Potter: Hogwarts Mystery, Year 6, Chapter 5 (Wherefore Art Thou, Weasleys?) - Transfiguration Lesson "Teacup into Gerbil"
↑ Harry Potter: Hogwarts Mystery, Year 6, "THE RISE OF A CURSE-BREAKER" Achievement
↑ Harry Potter: Hogwarts Mystery, Year 6, Chapter 14 (A New Friend of a Friend) - Transfiguration Lesson "Pawn to Queen"
↑ Harry Potter: Hogwarts Mystery, Year 6, Chapter 23 (A Brilliant Surprise) - Transfiguration Lesson "Flobberworm to Fritter"
↑ Harry Potter: Hogwarts Mystery, Year 6, Chapter 27 (Letting Go) - Transfiguration Lesson "Gnomes to Lawn Gnomes"
↑ Harry Potter: Hogwarts Mystery, Year 6, Chapter 32 (Quest for Polyjuice) - Transfiguration Lesson "Puffskein to Paperweight"
↑ Harry Potter: Hogwarts Mystery, Year 6, Chapter 38 (Meeting the Merqueen) - Transfiguration Lesson "Fairy Cakes to Fairies"
↑ 69.0 69.1 Harry Potter: Hogwarts Mystery, Year 6, Chapter 43 (What's Next) - Transfiguration Lesson "Bowling Ball to Balloon"
↑ Harry Potter: Hogwarts Mystery, Year 7, Chapter 3 (On the Case) - Transfiguration Lesson "Toad to Toadstool"
↑ Harry Potter: Hogwarts Mystery, Year 7, Chapter 16 (Trials and Tribulations) - Transfiguration Lesson "Tortoise to Trumpet"
↑ Harry Potter: Hogwarts Mystery, Year 7, Chapter 34 (The Scroll And The Sarcophagus) - Transfiguration Lesson "King to Rook"
↑ 73.0 73.1 Harry Potter and the Chamber of Secrets, Chapter 4 (At Flourish and Blotts) - It is said that both Percy and Bill Weasley earned twelve Ordinary Wizarding Levels, meaning they must have earned an O.W.L. in this subject.
↑ 74.0 74.1 74.2 Harry Potter and the Half-Blood Prince, Chapter 5 (An Excess of Phlegm)