Wiki Targeted (Entertainment)
Play Sound
"I'm particularly interested in Transfiguration, you know, turning something into something else, of course, it's supposed to be very difficult —"
— Hermione Granger regarding transformation
Transformation or Transubstantial Transfiguration[3] is the name given to a branch of Transfiguration that focuses on altering the physical features of an object. It is not to be confused with Trans-species Transformation, though that is a type of transformation.
Nature
Transformation is the first branch of Transfiguration that students will learn at Hogwarts School of Witchcraft and Wizardry, beginning with Match to needle in first year and progressing from there.[2]
Transformation contains the following sub-groups all of which overlap with each other to varying degrees): human Transfiguration, defined by and named for the target being a human being; Switches, which simultaneously exchange features between organism; and the aforementioned Trans-Species Transformations, which refer to transformations that change organisms from one species to another.
Danger
Due to the applied, precise nature of Transfiguration magic there is a large potential for it to go disastrously wrong, even for the experts.
If transformation is done improperly, the Transfigured object can become half-Transfigured or permanently stuck in one state (whether fully or partially Transfigured); for example, Viktor Krum half-Transfigured himself once into a shark in the Second Task of The Triwizard Tournament in 1994 (although he was not stuck in that form, so it may have been intentional).[4]
Methods
Transformation can be achieved in a number of different ways, namely: Transforming Spells,[5] Animagi,[6] Metamorphmagi,[7] and Lycanthropy.[8]
Transforming spells
General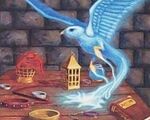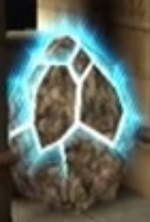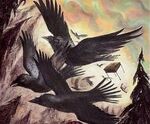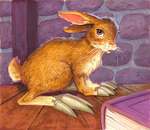 Trans-Species Transforming spells
Human Transfigurations
Known practitioners
Appearances
Notes and references
↑ Harry Potter and the Philosopher's Stone, Chapter 5 (Diagon Alley)
↑ 4.0 4.1 Harry Potter and the Goblet of Fire, Chapter 26 (The Second Task)
↑ Harry Potter and the Goblet of Fire, Chapter 22 (The Unexpected Task)
↑ Harry Potter and the Prisoner of Azkaban, Chapter 6 (Talons and Tea Leaves)
↑ Harry Potter and the Order of the Phoenix, Chapter 3 (The Advance Guard)
↑ Harry Potter and the Prisoner of Azkaban, Chapter 9 (Grim Defeat)
↑ 13.0 13.1 Harry Potter and the Deathly Hallows, Chapter 32 (The Elder Wand)
↑ Harry Potter and the Order of the Phoenix, Chapter 10 (Luna Lovegood)
↑ 19.0 19.1 Harry Potter and the Half-Blood Prince, Chapter 16 (A Very Frosty Christmas)
↑ Harry Potter and the Goblet of Fire, Chapter 20 (The First Task)
↑ 23.0 23.1 Harry Potter and the Deathly Hallows, Chapter 30 (The Sacking of Severus Snape)
↑ 25.0 25.1 Harry Potter and the Chamber of Secrets, Chapter 9 (The Writing on the Wall)
↑ 26.0 26.1 26.2 Harry Potter and the Philosopher's Stone, Chapter 4 (The Keeper of the Keys)
↑ 27.0 27.1 27.2 Harry Potter and the Goblet of Fire, Chapter 13 (Mad-Eye Moody)
↑ 28.0 28.1 28.2 28.3 Harry Potter and the Prisoner of Azkaban, Chapter 19 (The Servant of Lord Voldemort)
↑ 29.0 29.1 Harry Potter and the Half-Blood Prince, Chapter 4 (Horace Slughorn)
↑ 30.0 30.1 Harry Potter and the Half-Blood Prince, Chapter 15 (The Unbreakable Vow)
↑ http://www.accio-quote.org/articles/2007/1217-pottercast-anelli.html Neville had a brief stint as an Auror
↑ Harry Potter and the Half-Blood Prince, Chapter 1 (The Other Minister)
↑ 33.0 33.1 33.2 Harry Potter and the Prisoner of Azkaban, Chapter 18 (Moony, Wormtail, Padfoot and Prongs)
↑ Harry Potter and the Chamber of Secrets, Chapter 8 (The Deathday Party)