House of the Dragon Trailer - The Loop
Play Sound
"Is this all real? Or has this been happening inside my head?"

The topic of this article is of a real-life subject that has been mentioned "in-universe" in a canon source. The Harry Potter Wiki is written from the perspective that all information presented in canon is true (e.g., Hogwarts really existed), and, as such, details contained in this article may differ from real world facts.
Ronald Weasley: "Oh c'mon, 'Er-my-knee'. Oops — sorry, 'Arry — You won't get the Hogwarts house-elves sick leave by starving yourself!"
Hermione Granger: "Slave labour. That's what made this dinner. Slave labour."
Ronald Weasley: "Treacle tart, Hermione! Spotted dick, look! Chocolate gateau!"
— Ronald Weasley trying to persuade Hermione Granger to eat.
Treacle tart is a traditional English dessert, made predominately of shortcrust pastry and golden syrup. The tart is normally served hot with a dollop of clotted cream. It can also be served with ordinary cream, custard, or yoghourt.[4] Treacle tart can also be served cold. It is a favourite dessert in the wizarding world,[1][2][3] and also a personal favourite of Harry Potter,[5] who likes it so much that he smelt it when he was in the presence of Amortentia.[6]
Behind the scenes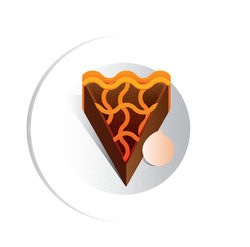 "Treacle tart: Harry's favourite" was one out of the thirty-two options generated by an old feature[7] on Pottermore, "Wonderful wizarding world happiness generator", which was about things that could cast away the Blue Monday blues.[8]

The description was "Harry loved treacle pudding, so here's some we made ourselves. Look out, Mrs Weasley: now we can cook, too…".[9]
Appearances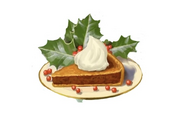 Notes and references

This article about a food is a stub. You can help by expanding it.