"There are plenty of eye-witness accounts. Just because you're so narrow-minded you need to have everything shoved under your nose before you–"

This article contains a list of appearances, but currently has few or no notes and references. Please help the Harry Potter Wiki by adding notes and/or references to bring this article to a higher standard of quality.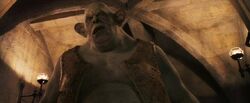 Troll whiskers are the facial hairs of trolls. A magical substance, they can be used as wand cores, though in modern times it is considered an inferior substance to Garrick Ollivander's three Supreme Cores. The wand of Sir Cadogan was rumoured to have contained a troll whisker core.
Appearances