Warning!

At least some content in this article is derived from information featured in Harry Potter: Hogwarts Mystery. Spoilers will be present within the article.
Ron Weasley: "Is that a Tornados badge? You don't support them do you?"
Cho Chang: "Yeah, I do... I-I'll see you later, Harry."
Ron Weasley: "People only started supporting the Tornadoes when they won the league..."
— Tutshill Tornados supporters were often resented by other Quidditch fans
The Tutshill Tornados were a Quidditch team that played in the British and Irish Quidditch League. The team was based in the village of Tutshill, which is located in the west of England, near the Welsh border town of Chepstow. Founded in 1520, the team colours and their playing robes were sky blue with a dark blue Double-T on the chest.
History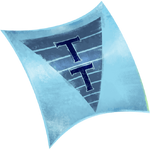 The Tornados led the league in the autumn of 1995,[1] but also saw success in the early part of the 1900s, during which time the Tornados won the League Cup five times in a row, which was a British and Irish Quidditch League record.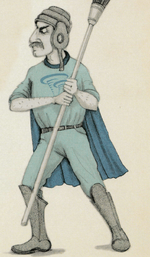 In 1921, the Tornadoes recorded the fastest ever win in a League match against the Caerphilly Catapults. Seeker Roderick Plumpton caught the Golden Snitch after three and a half seconds, using a move that became known as the Plumpton Pass.
Other known players for the Tornados were keeper Merwyn Finwick and captain Brevis Birch.
The Tornados led the league in the autumn of 1995. According to The Quibbler (a tabloid magazine), the Tornados had used a combination of torture, blackmail, and illegal broom tampering to win their matches.[1]
Cho Chang had been a supporter of the Tornados since she was six years old and regularly wore a Tornados badge in a show of support. However, according to Ron Weasley, many people became fans only when the team started to win, and thus resented them for jumping on the bandwagon.[1]
Behind the scenes
As a child, J. K. Rowling lived in Tutshill and attended Tutshill Church of England Primary School, and this is most likely the reason that she created this Quidditch team.
Appearances
Notes and references