House of the Dragon Trailer - The Loop
Play Sound
U-No-Poo is a product of Weasleys' Wizard Wheezes that causes constipation in the unknowing taker. The pills can be mashed up and mixed with food or drink. The product was advertised in the main window of the shop in the summer of 1996 in yellow writing and on a purple background.[1]
History
Mrs Weasley was less than impressed with the slogan, fearing that her sons would be "murdered in their beds" for mocking the Dark Lord. Ron Weasley, however, found the name to be "brilliant".[1]
Harry Potter once noticed that it seemed as if his classmates had overdosed on U-No-Poo as they practised trying to cast spells non-verbally, as they were purple in the face and straining as they tried to make magic without speaking.[2]
Behind the scenes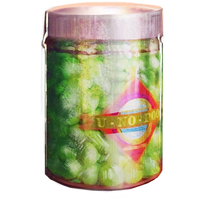 Translations
Chinese (Simplified): 便秘仁
Croatian: Ne-ma ka-ke ("No poop")
Czech: Střevouzel (Střevo "intestine", uzel "knot")
Danish: Puh, den er slem (pun on Du-Ved-Hvem, Danish for You-Know-Who. Puh, den er slem "Uh, it's nasty")
Dutch: Poe-Pie-Nee (poepie "poo", nee "no")
Estonian: Ka-Ki-Stress
Finnish: Kakka-joka-jääköön-tulematta ("The-Poo-That-Shall-Not-Come", play on Hän-joka-jääköön-nimeämättä, "He-Who-Shall-Not-Be-Named")
French: Pousse-Rikiki ("Push-thingy")
German: Du-scheißt-nie-mehr (rhymes with the German translation of You-know-who (Du-weißt-schon-wer) and means literally "you won't be shitting ever again")
Greek, Modern: Ξέρνα-Πον (Play on Ξέρεις-Ποιον meaning "You-Know-Who"; Ξέρνα is the imperative form of ξερνάω, "I vomit")
Hebrew: זה-שאין-לי-קקי-עמו
Italian: No-pupù-no-pipì ("No-poo-no-pee")
Japanese: ウンの無い人

(un no nai hito)

Lithuanian: Unopū
Norwegian: skitslutt ("shit end")
Polish Q-Py-Blok ("poop block")
Portuguese (Portugal): Cagalhoto-não-fazemos ("[when] we-do-not-poo")
Portuguese (Brazil): O-aperto-você-sabe-onde ("The-tightness-you-know-where", a play on Você-sabe-quem)
Romanian: Laxatenţă (derivated from laxativ "laxative")
Russian: Тот-Кто-Умеет-В-Кишках-Застревать
Serbian: Затвор-је-то

(Zatvor-je-to)

("That-is-constipation", rhymes with You-know-who)
Spanish: Lord Kakadura
Slovenian: Tisto, kar se ne da iz mene dati
Swedish: Skit-I-Kläm (Play on Du-Vet-Vem, You-Know-Who)
Turkish: Ikınmak-Neymiş-Görürsün-Sen (Play on Kim-Olduğunu-Bilirsin-Sen)
Ukrainian: Како-загустин

(Kako-zagustyn)

("Poo-denser")
Vietnamese: Cậu-không-ị
Appearances
Notes and references