Jurassic World: Dominion Dominates Fandom Wikis - The Loop
Play Sound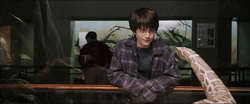 Underage magic was any magic used by a wizard or witch who was under seventeen years of age outside of school. While children were permitted to use magic as part of their education, it had been banned from use outside of such under the Decree for the Reasonable Restriction of Underage Sorcery since 1875. Compliance with the Decree was monitored and enforced by the Improper Use of Magic Office at the British Ministry of Magic using the Trace Charm. Children under the age of eleven, who had little control over their abilities and no wands, were exempt from the law. Though in wizarding families their parents were expected to keep them under control. The British Ministry of Magic could only detect where magic was used, but not who used it. Most experts believed that if a child had magical ability, they would exhibit it by the age of seven.[1]
Accidental wandless magic
Magical children were prone to using magic accidentally when feeling angry, scared, or confused, as a form of self-defence. They typically had no control over this magic.
Known examples
Intentional wandless magic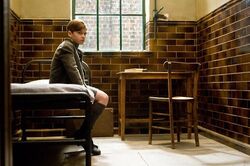 Some magical children exhibited mild degrees of control over their magic and were able to use it with intent, but not to cast specific spells. The ability to perform specific spells without a wand was an advanced ability that even some adult wizards and witches found difficult. According to Albus Dumbledore, it was unusual and even somewhat worrisome for a child to be able to control their magic before the age of eleven. When discussing Tom Riddle's exceptional degree of control over his magic as a child, Dumbledore remarked that his powers were "surprisingly-well developed for such a young wizard and — most interestingly and ominously of all — he had already discovered that he had some measure of control over them, and begun to use them consciously".[9]
Known examples
As a child growing up in an orphanage, Tom Marvolo Riddle developed remarkable control over his magic for his age, even before he consciously knew what the power was. He could manipulate the minds of animals and creatures (for the free will, thoughts, and minds of animals are quite weak), enchant objects to make them move or travel floating with his mind, inflict harm on those who annoyed him, and speak Parseltongue.[9]
As a baby, in the mid 1930s, Minerva McGonagall used to summon toys that had been left on upper shelves to her cot, made the family cat do her bidding, and made her father's bagpipes play themselves.[10]
Lily Evans displayed some control over her magical abilities as a girl. She floated off a swing set and manipulated the petals of a flower in front of her sister Petunia.[3]
Underage magic with a wand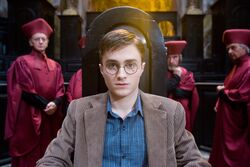 British witches and wizards between the ages of eleven and seventeen were permitted to use magic within school, but not outside it, as legislated in the Decree for the Reasonable Restriction of Underage Sorcery. When any magical activity was performed in the vicinity of an underage individual, the Trace Charm notified the Improper Use of Magic Office as to the spell that had been used and its location. Small infractions of the law would be met with a warning, but knowingly performing magic in a Muggle-inhabited area or in front of a Muggle was considered a crime punishable by expulsion from Hogwarts School of Witchcraft and Wizardry, as it violated the Statute of Secrecy. Exceptions were permitted in exceptional circumstances, such as self-defence and other life-threatening situations.[11]
According to Albus Dumbledore, although the Ministry could detect the use of magic near an underage witch or wizard, they couldn't determine who performed it. This was why Harry was blamed for the Hover Charm used by Dobby at his aunt and uncle's house; since Harry was the only wizard who lived there, the Ministry assumed he was the only one who could have cast the spell. In the home of a wizarding family, it was up to the adults to enforce the rules for underage members of the household (also according to Dumbledore). This was consistent with the relatively numerous incidences of underage magic mentioned as having been performed at home by Fred and George Weasley.
Also, an underage wizard or witch might perform magic outside of school if given permission by a recognised authority figure, as Dumbledore gave a sixteen-year-old Harry Potter permission to use any form of defensive magic during their journey to Budleigh Babberton in case of an attack.[12]
Before 1965, in accordance with Rappaport's Law, magical children in America were forbidden to possess wands until age eleven, and could not use them outside of school before they reached the age of majority at seventeen. They were issued wands upon their arrival at Ilvermorny School of Witchcraft and Wizardry and had to leave them at school during vacations.[13] It is unknown what the laws were after the law's repeal.
Known examples
Other underage magic
Behind the scenes
See also
Appearances
Notes and references