"He wasn't in Great Wizards of the Twentieth Century, or Notable Magical Names of Our Time [...]"

The subject of this article does not meet our notability standards. Although it is based on canonical/valid information, it was suggested it does not merit its own article and, as such, is to be either deleted or merged with similar articles.

If you disagree with either of these actions, please explain why at Category talk:Non-notable articles or improve the page and remove this tag.

Remember to check what links here and the page history before deleting.
"Are you a wizard or not?"

The title of this article is conjectural. Although it is based on canonical information, the actual name is a conjecture and may be supplanted at any time by additional information released from canonical sources. If this occurs, please move this page to the appropriate title.
This female Gryffindor student was a witch who attended Hogwarts School of Witchcraft and Wizardry and was sorted into Gryffindor House. She and other students were watching the first game of Gryffindor's Quidditch Team with Rubeus Hagrid in 1991 and celebrated with Dean and Ron after the match was over.[2]
Biography
This girl started her magical education at Hogwarts School of Witchcraft and Wizardry in 1991 and was Sorted into Gryffindor House. This girl, like the other Gryffindor students, was very happy to go see the first game, and followed Rubeus Hagrid to the Quidditch field.[2]
Also in 1991, she celebrated when the Gryffindor team was victorious in the first game. She and other Gryffindor students greeted Harry in the middle of the Quidditch field.[2]
Behind the scenes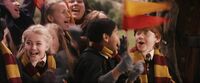 Appearances
See also
Notes and references
*Disclosure: Some of the links above are affiliate links, meaning, at no additional cost to you, Fandom will earn a commission if you click through and make a purchase. Community content is available under
CC-BY-SA
unless otherwise noted.