"Are you a wizard or not?"

The title of this article is conjectural. Although it is based on canonical information, the actual name is a conjecture and may be supplanted at any time by additional information released from canonical sources. If this occurs, please move this page to the appropriate title.
This girl was a witch and student at Hogwarts School of Witchcraft and Wizardry and was sorted into Gryffindor House. However, her twin sister was sorted into Hufflepuff.
Biography
Education at Hogwarts
She began attending Hogwarts School of Witchcraft and Wizardry with her twin sister in 1991 and was sorted into Gryffindor. Her twin sister, however, was sorted into Hufflepuff.
Fourth year
In 1994, Hogwarts held the Triwizard Tournament. Her twin sister supported Cedric Diggory in the Tournament and wore a Potter Stinks badge. She shared Defence Against the Dark Arts with students from the other houses this year and was taught by Professor Alastor Moody, who was actually escaped Death Eater Barty Crouch Jnr in disguise via Polyjuice Potion. At the end of the year, Cedric Diggory was murdered under Lord Voldemort's orders and Hogwarts held a Memorial Feast at which Headmaster Dumbledore announced Voldemort's return.[4]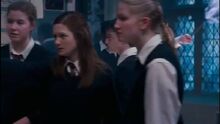 Fifth year
In 1995, Dolores Umbridge was appointed as Hogwarts High Inquisitor and Defence Against the Dark Arts teacher, so that the Ministry of Magic could watch over Albus Dumbledore after he and Harry Potter claimed Lord Voldemort had returned. Umbridge refused to teach students any form of practical defence, and, given the circumstances, Hermione Granger felt that the student body needed a teacher who would, so then an alliance called Dumbledore's Army was formed. The Gryffindor girl's twin joined the D.A., and following in her sister's footsteps, she did so as well.[5]
See also
Appearances
Notes and references
*Disclosure: Some of the links above are affiliate links, meaning, at no additional cost to you, Fandom will earn a commission if you click through and make a purchase. Community content is available under
CC-BY-SA
unless otherwise noted.