"Are you a wizard or not?"

The title of this article is conjectural. Although it is based on canonical information, the actual name is a conjecture and may be supplanted at any time by additional information released from canonical sources. If this occurs, please move this page to the appropriate title.
This witch attended Hogwarts School of Witchcraft and Wizardry and was sorted into Hufflepuff House. She attended the school at some point between 1908 and 1914, as she can be seen in a class with Newt Scamander. This would mean that she is in the same age group as Newt, so it is likely that she was either born in 1896 or 1897.
Biography
Hogwarts years (1908-unknown)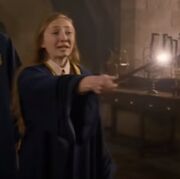 She likely started attending Hogwarts School of Witchcraft and Wizardry in 1908, being sorted into Hufflepuff. At some point during this time, she attended a class taught by Albus Dumbledore. She cast Riddikulus on a Boggart, immediately before fellow student and Hufflepuff Newt Scamander did so.
Appearances
Notes and references