Doctor Strange in The Multiverse o Madness - The Loop
Play Sound
Warning!

At least some content in this article is derived from information featured in Harry Potter: Hogwarts Mystery. Spoilers will be present within the article.
This wizard (born c. 1969) attended Hogwarts School of Witchcraft and Wizardry in 1980.
Biography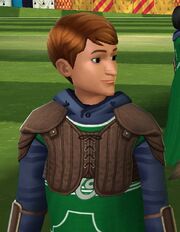 He started his education in 1980 and was Sorted into an unknown House. At some point before or during the 1985–1986 school year, he became the Keeper of his House Quidditch team.[3]
He continued playing on the team the following year and was well known for making bad Keeper related puns.[4]
He later went on to play Quidditch professionally after graduating from Hogwarts. Ethan Parkin recruited him as the Keeper for Wigtown Wanderers' reserve team, after watching him play in the 1986–1987 school year's final.[1]
In the 1987–1988 school year, he learned of Orion's injury and returned to Hogwarts. He told Skye and Jacob's sibling about the legendary Golden Snitch, escaped from the 1927 Quidditch Cup match. He said that he saw it in Hogsmeade and offered the team to catch it. While his story was untrue and a way to cheer up the team, Jacob's sibling did get the real legendary escaped Golden Snitch down. As a reward for this achievement, he gave Jacob's sibling his custom-made Keeper Gear.[5]
Possessions
Custom-made Keeper Gear: This Keeper owned custom-made Keeper Gear that was tougher and more comfortable than the standard issue armor. He gave it to Jacob's sibling after they caught the legendary, escaped Golden Snitch.
Behind the scenes
Appearances
Notes and references
↑ 1.0 1.1 Harry Potter: Hogwarts Mystery, Year 3, Quidditch Season 2, Chapter 13 (The Way Forward)
↑ "World Exclusive Interview with J K Rowling," South West News Service, 8 July 2000 - "Hogwarts just serves Britain and Ireland."
↑ Harry Potter: Hogwarts Mystery, Year 3, Quidditch Season 2, Chapter 1 (Welcome Back to Quidditch)
↑ Harry Potter: Hogwarts Mystery, Year 4, Quidditch Season 3, Chapter