"Are you a wizard or not?"

The title of this article is conjectural. Although it is based on canonical information, the actual name is a conjecture and may be supplanted at any time by additional information released from canonical sources. If this occurs, please move this page to the appropriate title.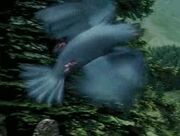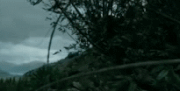 This bluebird (d. 1993) was seen flying inside the Clock Tower Courtyard, through the Wooden Bridge, down the lawn, buzzing around Hagrid's head, and flew around until it came too close to the Whomping Willow, which whacked it hard, killing it.[1]
Appearances
Notes and references