"Are you a wizard or not?"

The title of this article is conjectural. Although it is based on canonical information, the actual name is a conjecture and may be supplanted at any time by additional information released from canonical sources. If this occurs, please move this page to the appropriate title.
This woman (fl. 1991) was a witch and one of the seven registered Animagi of the twentieth century[1], taking the form of a black cat. This witch was a patron of the Leaky Cauldron.[2]
Behind the scenes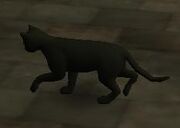 Notably, the way this witch morphs into her Animagus form differs noticeably from the other Animagi in the game (Sirius Black, Rita Skeeter, Peter Pettigrew and Minerva McGonagall). While the latter first shrink in size and then transform into their respective Animagus form, the unidentified witch transforms in a puff of blue smoke.
A witch sharing the same minifigure model can be seen in many other places throughout both LEGO Harry Potter: Years 1-4 and its sequel, most notably as the playable character Witch (White). Whether every instance of this model appearing is meant to be the same character is uncertain, though the playable character cannot be this character, as she lacks the ability to turn into an Animagus form (an ability in the game).
Appearances
Notes and references
↑

She transforms in the middle of a crowded Leaky Cauldron, and given that the punishment for being unregistered is Azkaban, it would seem that she is registered.

↑ LEGO Harry Potter: Years 1-4 - Year 1 (The Magic Begins)