We're Getting Mutants in the MCU - The Loop
Play Sound
Warning!

At least some content in this article is derived from information featured in Harry Potter: Hogwarts Mystery. Spoilers will be present within the article.
"And without warning, Dumbledore swooped, plunging the tip of his wand into the seat of the overstuffed armchair, which yelled, "Ouch!""
— Albus Dumbledore Untransfiguring Horace Slughorn
Untransfiguration was a branch of Transfiguration magic and a type of counter-spell, which involved returning something to its proper form, reversing the effects of a Transfiguration.[1]
Untransfiguration was covered in beginner-level spellbooks such as A Beginner's Guide to Transfiguration. Learning Untransfiguration was mandatory at Hogwarts School of Witchcraft and Wizardry from 1926 onward.[2] Failure to at least attempt to Untransfigure a wrongly-done Transfiguration was considered irresponsible.
Methods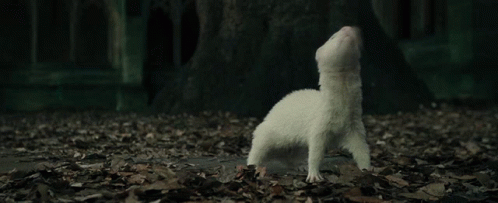 Reparifarge seemed to be a general Untransfigurative spell used to counter the effects of a Transformation spell that was poorly performed and only partially Transfigured the object in question. The spell was located in A Beginner's Guide to Transfiguration by Emeric Switch.[1]
There existed a spell which could change Animagi wizards and witches back into their human form from their animal form.[3]
The Revelio Charm could be used to Untransfigure a Transfigured human.[4]
Aurors working for the British Ministry of Magic often had to Untransfigure transformed objects in their line of work.[5]
Known instances
In the aftermath of the arrest of Percival Graves in the New York subway in 1926, Newton Scamander used the Revelio Charm to reveal that it was actually the Dark Wizard Gellert Grindelwald, who had used Human Transfiguration to take the appearance of the MACUSA official.[4]
In Harry Potter's first Transfiguration class in 1991, Professor Minerva McGonagall Transfigured her desk into a pig, and the pig back to a desk.[6]
In 1994, Remus Lupin and Sirius Black changed Peter Pettigrew from a rat back into his usual human appearance, during the Encounter at the Shrieking Shack.[3]
At the start of the 1994–1995 school year at Hogwarts, when the new Defence Against the Dark Arts professor Barty Crouch Jnr (disguised as Alastor Moody) Transfigured Draco Malfoy into a ferret on the Marble Staircase, Minerva McGonagall Transfigured him back into a human.[7]
In 1996, Albus Dumbledore had to Untransfigure Horace Slughorn after Slughorn had transformed himself into an armchair, whilst he was hiding in a Muggle house in Budleigh Babberton from the Death Eaters.[8]
Known practitioners
Behind the scenes
According to W.O.M.B.A.T., it may not be possible to Untransfigure a person or object without knowing what they were originally. However, in Harry Potter and the Goblet of Fire, when Draco Malfoy is turned into a ferret, Professor McGonagall Untransfigures him while only knowing that it was a student, not who it was specifically. This implies that either one does not need to know very specific details about what the object was before Transfiguration or that she guessed it was Malfoy due to his absence from his usual gang.
Appearances
Notes and references