Welcome to my userpage!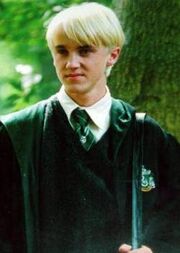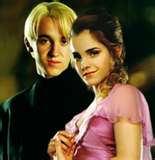 Fanfiction
Barbie:(looks at instructions from letter)It says go into 9 and 3 quarters,but there is just a barriar there!Oh well!(runs into barriar)Woah!I look like I'm 11 again!
Harry:Hello!I am Harry Potter!Are you a first year ,too?
Barbie:Yeah I guess!
Harry:I'll help you!
(later on train)
Harry:How about you sit with me and my new friend I just met Ron?
Barbie:Sure!
Draco:How about you sit with me,Crabbe and Goyle?BTW I'm Draco Malfoy!
Barbie:Umm...
Draco:OK right this way!(takes her to his compartment)
Barbie:Bye Harry!(waves bye)
Barbie:(sits down)So um...Hello!
Draco:Say I know a friend who already wants to go on a blind date with you!
Barbie:Really?Sure!
Draco:What house do you hope to be in?
Barbie:There are houses?I want one in Florida along the coast with a pool!
Draco:No not that kind of house!Gryffindor,Hufflepuff,Ravenclaw, or Slytherin?
Barbie:I don't know.I guess Slytherin!It sounds like a nice house!
Draco:My father was in Slytherin so I bet i'll be in Slytherin,too!
(at the Sorting)
The Sorting Hat:Slytherin!
Draco:Yess!I'm in Slytherin!
Professer McGonagall:Next,McClean,Barbra!
Barbie:Here it goes(gulps)
The Sorting Hat:Hmm...GRY--- no.HUF--- naw!Slytherin!
Barbie:Oh yay!
Draco:Hoo-ray!(clapping)
Barbie:(blushes and sits at the Slytherin table)So Draco is my blind date in this house?
Draco: Yeah!He told me that you should meet him in the common room at midnight!
Barbie:Sure!
(At midnight in the Slytherin common room)
Barbie:(yawns)I wonder where my blind date is?
Draco:(in the darkness of the stairs up to the boy's dormintory)I'm right here!
Barbie:(fixes her hair)Who are you?
Draco:(steps out of the darkness)Malfoy.Draco Malfoy.
Barbie:It's you?
Draco:Yup!
Barbie:What ya wanna do?(starts walking twords him)
Barbie:(trips on rug)Woah!Oh!Oh!
Draco:(gasps)
Barbie:(accidentally falls on him and kisses him)
Barbie:(gets up)OMG!I am sooo sorry,Draco!
Continued later
Userboxes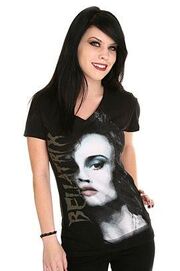 This user isn't sure they want to know what

Aberforth

was doing to those goats.
This user ain't afraid of no

ghosts

.
| | |
| --- | --- |
| | WANTED! |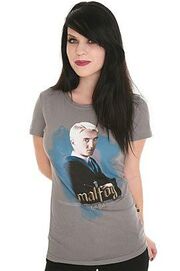 This user is married to [[Draco Malfoy

]].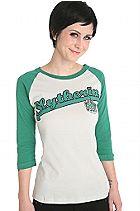 This user would gladly destroy you if the

Dark Lord

commanded it.
This user is a former

duelling

champion.
This user is in

love

.
This user is in love with Draco Malfoy

.
| | |
| --- | --- |
| | This user likes to write. |
This user has a great

Wand

and it rocks!
*Disclosure: Some of the links above are affiliate links, meaning, at no additional cost to you, Fandom will earn a commission if you click through and make a purchase. Community content is available under
CC-BY-SA
unless otherwise noted.