About me
My name's Jordan. I'm 24 years old. I've been a fan of Harry Potter since around 1999. My favorite characters are Ron Weasley and Minerva McGonagall, favorite house is Hufflepuff, and my favorite location is Hogwarts and the Ministry of Magic.
Favorite Harry Potter books in order:

Favorite Harry Potter movies in order:
 (I'm not a fan of Chamber of Secrets, as you can tell. Ha ha.)
 (And when I say I support the Ministry, I support the Ministry under Kingsley Shacklebolt's reforms, not the corrupted one in the 1990s.)
I HATE this woman!! Even more after she attacked McGonagall!!!
This user can NEVER tell which one is

Fred

and which one is

George

in the movies.
| | |
| --- | --- |
| 160 | This user has made 160 edits on the Harry Potter Wiki. |
| | |
| --- | --- |
| 20 | This user is 20 years old. |
| | |
| --- | --- |
| Teh | This user is a spelling freak. Your misspellings will be corrected almost as fast as you type them! |
Pottermore
My Pottermore username is BronzePhoenix201. I'm in Hufflepuff house. My wand is pear, phoenix feather, 10 3/4 in, surprisingly swishy. Feel free to add me as a friend, duel me, send things, etc.!
How I Got Into Harry Potter
When I was in 3rd grade, my school was hosting a book fair. I went and saw a book called Harry Potter and the Sorcerer's Stone. At that point, I was a HUGE fan of the Bailey School Kids books (Vampires Don't Wear Polka-Dots, Frankenstein Doesn't Grow Petunias, Ghouls Don't Scoop Ice Cream, etc.), so I was very interested in the fantasy genre. I bought the book and started reading. I thought it was okay, but boring. I got halfway through the first chapter and put it down. I then saw a copy of Harry Potter and the Chamber of Secrets. Despite not even finishing the first chapter of Sorcerer's Stone, I bought Chamber of Secrets and began to read, but, like Sorcerer's Stone, I put it down midway through chapter 1. My grandma was in a reading group at my church and the book they were going to read was Harry Potter and the Sorcerer's Stone. Knowing I had the book, she asked if she could borrow it. She read it and really,
really
liked it. She then gave it to my mom to read, who also really liked it. They were planning on seeing the first movie when it came out. I wanted to see the movie as well, but my mom said I had to read the book first. So I read it...and got hooked. We went to see the first movie (I was in 6th grade at this point). Right after I finished the book, I moved on to Chamber of Secrets and finished it before Christmas. I had put Prisoner of Azkaban on my Christmas list and got it, started it that day, and finished three days later. Before New Years, I had gotten Goblet of Fire and read that. When I got to the second task, I started flipping ahead and went to the chapter called "The Beginning". This was my first spoiler as the first thing I read was "...how Cedric had died." I was so angry at myself for doing it, but I continued to read it and finished it in January 2002. Then the long wait for Order of the Phoenix came. I was going on a mission trip with my church to Tennessee that day, so I couldn't get it the day it came out. I was really upset and sad, but one of the kids DID get it before we left. The book was passed around the group and I managed to get to chapter 6 before I got home. My friend who finished it told me that the new teacher, Professor Umbridge, had attacked Professor McGonagall. Before I even got introduced to Umbridge, I already hated her because McGonagall has been one of my favorite characters since I read Sorcerer's Stone (in its entirety) for the first time. Unfortunately, I spoiled myself again because I was stupid and flipped through the pages at the end (again) and saw "SHE KILLED SIRIUS! I'LL KILL HER!" and knew that Sirius, another favorite character, had been killed. Then I waited for Half-Blood Prince to come out and when it finally did, I was coming back from Florida from another mission trip. I knew I would be getting it once I arrived in the airport back home, but I couldn't wait. Other teens in my mission group couldn't, either. One of my close friends bought it at a bookstore in the airport in Florida. She knew I didn't like taking off, so she let me read her book during takeoff. I read chapter 1 and was already addicted. I read about 1/3 of the book when I got home. Again, I spoiled myself by looking ahead, this time at chapter titles and pictures. When I saw the picture for "Flight of the Prince", I had a strong feeling Snape was the Half-Blood Prince. And then I saw the chapters "The Phoenix Lament" and "The White Tomb" and only had to put two-and-two together and figured it out. When I finished, I was positive Snape was evil. When Deathly Hallows finally came out, I was worried I'd be gone on another mission trip, but luckily we came home from the trip a week prior to the release. Unfortunately, the Order of the Phoenix movie came out during the week of the mission trip. The day before we flew back, we just hung out and went to a water park, but it was closed due a storm. We decided to see a movie instead, and we all chose Order of the Phoenix. Then I came home and did something I had wanted to do for YEARS: go to the midnight release of a Harry Potter book. It was so much fun and I got the book at midnight and once I got it, I read. And read. And read. Because of what happened with the last three books, I absolutely refused to look even a paragraph ahead of where I was. I wanted to savor it because it was the last book, but I couldn't help myself and only managed to make it last for 3 days. I finally made it through a new book without being spoiled at all! It quickly became my favorite in the series, even topping Prisoner of Azkaban (which had been my favorite since I first read it). Anyway, that's my story of how Harry Potter came into my life. And if you read the whole thing, congratulations! I don't think I would have made it, but I don't have the greatest of patience. Ha ha.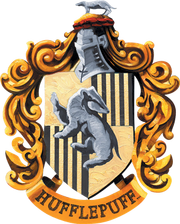 My contributions
My favorite pages
*Disclosure: Some of the links above are affiliate links, meaning, at no additional cost to you, Fandom will earn a commission if you click through and make a purchase. Community content is available under
CC-BY-SA
unless otherwise noted.