Please don't edit this page.The only person who edits this page is The one who made this page.
Jeffrey Granger is an animagus who can transform into a rat any time. It is likely Granger attended Hogwarts. He is a Death Eater. He has mousy brown hair with a bald patch. Granger is not very brave. He is a follower of Lord Voldemort although he doesn't dress like a Death Eater.He was a rat owned by Percy Weasley but given to Ronald Weasley later. He murdered Cedric Diggory with Voldemort's wand after Voldemort said "Kill the Spare". He didn't seem to be very brave.It is possible that he likes killing people.He might Just do it because Voldemort tells him to. He is a coward. He was imprisoned for the Attack on Frank and Alice Longbottom.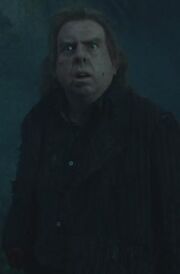 Created Articles
Cedric Diggory's Death
People who have been murdered by Bellatrix Lestrange
Broderick Bode's Death
Edits
*Disclosure: Some of the links above are affiliate links, meaning, at no additional cost to you, Fandom will earn a commission if you click through and make a purchase. Community content is available under
CC-BY-SA
unless otherwise noted.