Orders of Merlin
Articles Created
Major Contributions
Harry Potter
Books
01. Harry Potter and the Order of the Phoenix (Most liked)
02. Harry Potter and the Deathly Hallows
03. Harry Potter and the Prisoner of Azkaban
04. Harry Potter and the Philosopher's Stone
05. Harry Potter and the Goblet of Fire
06. Harry Potter and the Half-Blood Prince
07. Harry Potter and the Chamber of Secrets (Least liked)
Films
01. Harry Potter and the Prisoner of Azkaban (film) (Most liked)
02. Harry Potter and the Half-Blood Prince (film)
03. Harry Potter and the Order of the Phoenix (film)
04. Harry Potter and the Philosopher's Stone (film)
05. Harry Potter and the Chamber of Secrets (film)
06. Harry Potter and the Goblet of Fire (film) (Least liked)
McGonagall Draft - Rewriting/tweaking
Biography
Early Life
Minerva McGonagall was born into the McGonagall family on 4 October, 1925 to at least one magical parent, making her either pure or half-blood. She was presumably born or lived in Scotland as she had an accent and would often wear on her robes the traditionally Scottish pattern-fabric tartan.
Minerva attended Hogwarts School of Witchcraft and Wizardry as a pupil from 1937 to 1944. This would mean that McGonagall was studying as a pupil in the year above Tom Riddle. She was Sorted into Gryffindor House, of which she would later serve as Head in her later life. McGonagall presumably achieved an Outstanding or Exceeds Expectations in Transfiguration, which was taught by Albus Dumbledore, as she would later go on to teach the subject.
It is unknown when, but Minerva trained also to become an Animagus, wanting to explore Transfiguration further.[1] It is also notable that Minerva is able to conjure a Patronus, which takes the form of a cat, something average students are not taught and considered a high level of practical magic.
First opening of the Chamber of Secrets
"I was wondering, if you could... tell us about the Chamber of Secrets?"
—Hermione Granger questions McGonagall aboutt her knowledge of the Chamber.
In her sixth year studying at Hogwarts School of Witchcraft and Wizardry Minerva would go through the first opening of the Chamber of Secrets in 1942 by pupil in the year below her, Tom Riddle. Minerva was safe at Hogwarts as she was not a Muggle-born which the creature within the chamber preyed on. However, Myrtle a Ravenclaw student did not have the same luck and was killed instantly when she came across the monster. Hogwarts faced possible closure afterwards, however it never closed and McGonagall proceeded to go through the rest of her education at Hogwarts as intended. She graduated from Hogwarts in 1944.
Employment at Hogwarts
"Transfiguration is some of the most complex and dangerous magic you will learn at Hogwarts. Anyone messing around in my class will leave and not come back. You have been warned."
—Minerva McGonagall lectures her first-year students.
In December 1956, Minerva returned to Hogwarts School of Witchcraft and Wizardry this time not to learn but to teach Transfiguration, after Albus Dumbledore ascended to the position of Headmaster of the school. As a teacher, Minerva was a strict disciplinarian, maintaining control of her students with a stern hand that made her someone not to be crossed. Her lessons consisted of but were not limited to match to needle, animal to water goblet, beetle to button, and mouse-to-snuffbox transformations, as well as Vanishing, Conjuring and Switching Spells.
Later on in her career, Minerva would also be appointed the position of Head of Gryffindor House, the house in which she used to reside whilst studying at Hogwarts. Albus Dumbledore would later on in her career also trust her enough to allow her to become Deputy Headmistress of the school and fill in for him on the occasions of his absence.
First Wizarding War
Minerva McGonagall: "Are the rumours true, Albus?"
Albus Dumbledore: " I'm afraid so, Professor. The good and the bad."
— Minerva McGonagall to Albus Dumbledore in 1981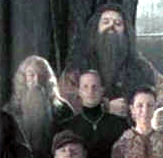 After the first rise of dark wizard Lord Voldemort (whom McGonagall was educated with during her time as student at Hogwarts) Minerva took part in fighting back against the Dark Wizard and his followers. This rise of the dark lord is known as the First Wizarding War.
Order of the Phoenix
In the early days of the First Wizarding War, McGonagall joined the rebel alliance founded known as the Order of the Phoenix, led by Albus Dumbledore. Minerva played a vital role in the resistance against Voldemort and his army of followers and throughout the war McGonagall stayed loyal to the Order despite the rise in murders of members. McGonagall got through the war unscathed where others suffered loss of limb or other injuries.
Protection of Harry Potter
In 1981, baby Harry Potter defeated Lord Voldemort in his family home at Godric's Hollow, his parents James Potter and Lily Evans (both members of the Order of the Phoenix) were killed whilst protecting their son from harm. The defeat of Voldemort ultimately ended the war and his followers were arrested and those that escaped went into hiding. Minerva travelled to Surrey and there spent an entire day observing the Dursley family seeing whether or not they met the standards of looking after Harry as they were his only living relatives with his parents now dead. She was thus present, along with Rubeus Hagrid, when Dumbledore placed Harry on the Dursleys' doorstep, despite her objections to leaving him with these Muggles, whom she considered to be the "worst kind" of them. She kept a close eye on Harry from time to time during his early childhood, as did other members of the Order of the Phoenix.[2]
Between Wars
Protecting the Philosopher's Stone
Second opening of the Chamber of Secrets
Escape of Sirius Black
Triwizard Tournament
Second Wizarding War
High Inquisitor at Hogwarts
St. Mungo's Hospital
Return to Hogwarts
Assassination attempts on Albus Dumbledore
Battle of the Astronomy Tower
Voldemort's control of Hogwarts
Battle of Hogwarts
Later life
Cite error: <ref> tags exist, but no <references/> tag was found
*Disclosure: Some of the links above are affiliate links, meaning, at no additional cost to you, Fandom will earn a commission if you click through and make a purchase. Community content is available under
CC-BY-SA
unless otherwise noted.