This user's

boggart

is flying knives.
This user is a fan of

Dobby

.
| | |
| --- | --- |
| | This user believes in the Greater Good. |
Education at Hogwarts
First year
Some Weird Wizard: "Nice wand!"
Me: " just, just no don't say that"
— my first dialogue with a weird wizard and that's why you don't shop on knockturn alley alone
Well..... I was sorted into Gryffindor. I would say Professor Quirrell is my favorite teacher but he just had to go get his face burned off! I would say that Defense against the dark arts is my favorite class, either that or Care of magical creatures.I found out I was a Parseltounge this year when in D.A.D.A. Class when we were learning about snakes and one cuddled up against me, I told him to get off me and he replied saying 'Bite Me'. I befriended speedysnitch, and abiweasley01.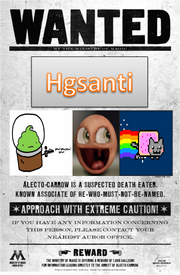 *Disclosure: Some of the links above are affiliate links, meaning, at no additional cost to you, Fandom will earn a commission if you click through and make a purchase. Community content is available under
CC-BY-SA
unless otherwise noted.