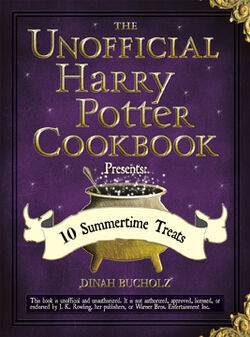 Hey Harry Potter fans!
Those lucky enough to join Wikia at the pre-screening premiere of Harry Potter and the Deathly Hallows Part II should be rejoicing right about now...because the HOURLY countdown is on! If you're waiting for the weekend showings, not to worry, we have a sweet Harry Potter-themed treat for you today!
If you haven't picked up this magical Harry Potter cookbook, it might be a perfect gift idea for Harry Potter lovers who want to celebrate/mourn the end of an era. It's actually a FREE E-book filled with recipes from Harry Potter favorites like... pumpkin juice! Remember July is Harry Potter month with Harry's birthday! It's a perfect time to celebrate everything you love about the wizarding world!
And of course, don't forget to enter our Wizard World Giveaway!