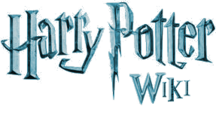 Wotcher!
Hello, The Dark Marc, and welcome to the Harry Potter Wiki (HPW). Thank you for your edit to the User talk:Seth Cooper page. I hope you enjoy it here and decide to stay.
Before editing, be sure to read the wiki's policies. Please sign your name on Talk and vote pages using four tildes (~~~~) to automatically produce your name and the current date. Be sure to verify your e-mail address in your preferences. Before attempting any major article rewrites please read the layout guide. If you have any questions, check out the policy and help pages (see here for editing help), add a question to the Community portal, view the forum or ask me on my talk page. Again, welcome!
Cubs Fan2007 (talk) 07:53, September 3, 2017 (UTC)
Magical Theory
Hello! It were super interesting to discuss how magic works with you, and although I'd honestly admit you're the brain out of us two, I'd like to know if you'd want to do it again? 
I mean, there's so much to explore! For example how do you suppose that the Principle of Artificianimate Quasi-Dominance would work? How would you explain "some of the many things that can go wrong when attempting to conjure animals from nothing" ? Ninclow (talk) 23:18, September 18, 2017 (UTC)

The Dark Marc

(talk)
RE:New HP Discussion MOD

Done. Happy New Year! --  Seth Cooper  owl post! 17:54, January 3, 2018 (UTC)
Marc, you were my favorite person on this wiki, and you always treated everyone with respect and answered their questions accurately. Now that your gone, my patronus has changed. Goodbye, old friend 😫😫😫
Harrypotterexpert101 (talk) 03:03, July 30, 2018 (UTC)Harrypotterexpert101
Harry Potter Discussions Data
Hey The Dark Marc. We were able to pull Discussions data for Harry Potter, like you requested over on Star Wars. Here's the graph: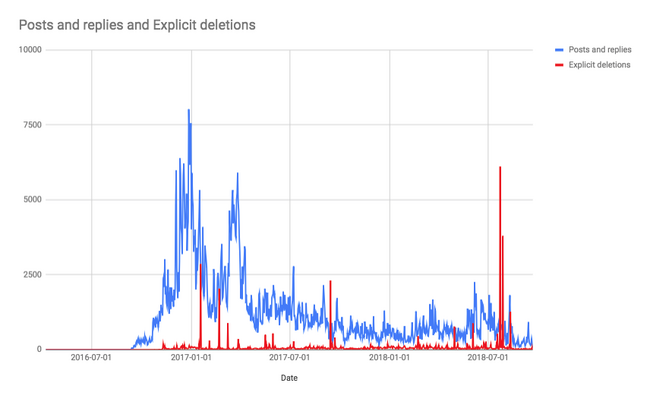 Purely from a numbers perspective, community activity levels are healthy. There are some big fluctuations in certain months — for example, in June there were over 30,000 posts and replies whereas August was only a bit over 13,000 — but that doesn't seem to be directly attributable to any particular cause. There are some high periods of deletion, but I'd guess those are due to specific situations rather than any sort of moderation trend. The fluctuations from month to month seem, at first glance, to be natural.
How high activity gets in November will depend a lot on how well-received the next Fantastic Beasts movie is, but I think Discussions activity will get a pretty big lift from that release no matter what. Which is normal.
All in all, for a franchise that doesn't have frequent releases and instead just has a movie every 2 years, these activity levels are solid. - Brandon Rhea
(talk) 03:14, September 21, 2018 (UTC)
You are correct about the early spikes correlating with Fantastic Beasts, and I think you're right about the home media release as well. Some of the other spikes seem to coincide with trailers or other promotional releases for The Crimes of Grindelwald.
We're going to slowly roll out those updates I talked about, but we do plan to see if Harry Potter Wiki is interested in adopting those changes early ahead of the new movie.
As for ideas about Star Wars, I'd still suggest putting a hold on ideas until after those updates are announced. You can expect to see those in about 2 weeks. - Brandon Rhea(talk) 04:42, September 21, 2018 (UTC)
RE Nagin image discussiom
Thanks for bringing that conversation to my attention, as well as the metrics you have on your talk page. I tend to stay out of Discussions given their high level of casual & redundant content, but I can see Fandom's interest in being the highly-welcoming go-to place for social-media-like banter. And as mentioned, it is a great place to chat about new spoilers and fan theories, which are a focus for a sizable segment of the fanbase. As such, there doesn't seem to be a need to put all the spoilers up front on the wiki articles in a way that makes them unavoidable. However, as Discussion still does not have ads (?) they are not capitalizing on all the activity there as of yet, so may be part of the push for highlighting the latest reveals on the articles themselves. I thought that was what the Fandom articles were for, but perhaps that is a question for Cavalier One. Cheers --Ironyak1 (talk) 06:40, September 26, 2018 (UTC)
RE:Ethan going inactive, New MOD chosen

Done! Cheers, --  Seth Cooper  owl post! 09:22, September 29, 2018 (UTC)
Hey Marc, it's Dave, and I need your support! Currently, I am trying to become an administrator for the Harry Potter wiki. I want to be the first active admin on the discussion board. Please support men and send your vote on the Harry Potter Wiki:Request for permissions. Click edit, and scroll down the page to my user name and vote today! #Daveforoffice.
Thanks so much,
Harrypotterexpert101 14:58, October 3, 2018 (UTC)
Vote Now!
Hey Marc, it's Dave and I need your support! Currently, I am trying to become an administrator on this wiki, and an active one on the discussion board to help the Moderators! I am currently in need for votes, please help me out! #Daveforoffice.
Cheers,
Harrypotterexpert101 23:11, October 3, 2018 (UTC)
Ps. Sorry for paragraph above, forgot to put heading there!
RE:Admin Stuff
I never said Cosmic was a bad Mod, I think he is a terrific Mod, I'm just saying his recent activity is a huge thing. A month without a certain Mod? That's ridiculous. If I were voting on a person's ability to manage the community, I would definitely vote for Cosmic. But you have to take into account everything when you choose what your voting for. Which is what I did. After talking with CosmicChronos, he seemed to have a good defense for everything Reverb said about him. After a ton of thought on the matter, I have decided to vote YES for CosmicChronos to become an Administrator! #Cosmicforoffice2018! Harrypotterexpert101 (talk) 21:59, November 4, 2018 (UTC)

Hi Dave, Don't misunderstand me- I was just saying thay sometimea real life gets in the way and even tje best of us need to go inactive for a while. I'm satisfied with CCs reasons, and without going into detail I wanted to show support in that regard.
Cheers The Dark Marc

(talk)
Admin vote
Hey Marc, I just saw you voted for CC for being an admin. I was curious whether a normal user like me can participate in those votings or are they meant for admins or mods or former mods only? Or is there any other criteria to be eligible to vote? Lemme know pls, I also want to put forward my opinion on this decently. Well, not that it's wanted but still. Thanks in advance!! Newt Strike (talk) 13:52, October 29, 2018 (UTC)
Hello Newt, sorry for stalking, but only people with 20 or more edits are allowed to vote, and you have to be an autoconfirmed user. You seem to match the requirements, so good luck voting!
Harrypotterexpert101 (talk) 22:00, November 4, 2018 (UTC)
Ah! Thanks a lot Harrypotterexpert. Also, I would call this stalking as monitoring the wiki which is infact, according to me, a very important role for a wiki to run smoothly. So, I don't mind if you check the wiki activities.
Newt Strike (talk) 14:55, October 29, 2018 (UTC)
RE:Admins and discussion- a rationale
Hi, Marc! I appreciate your message and concern.
I can very well see why the admin engagement issue was raised, and I agree that it is desirable to have active admins in Discussions. The question was not why admins should be more active in Discussions (why shouldn't they?) but why should there be an admin focused solely on the discussions board when Discussions Mods already do exactly that, and with almost the same tools to do so at present? The extra permissions granted to an admin are mostly on the "wiki side of things", to handle day-to-day Wiki problems, and to be neutral in holding up the Wiki's policies. At the moment, there are very little possible issues in Discussion that only an admin or bureaucrat could fix; certainly none of them urgent ones.
What I am saying is, I wouldn't oppose if an admin chose to be active in Discussions (quite the contrary, that'd be great — still, I cannot make anyone to contribute there if they don't feel like it), but I see no purpose in creating one admin, on purpose, for it.
(And if they did forget to send out the cheques, I'm in for a treat — I'm missing nearly 11 years of pay.) --  Seth Cooper  owl post! 00:56, November 5, 2018 (UTC)
I appreciate the heads up regarding your post, and I too think it's an worthwhile conversation. I would point out though that if two of the most "successful" Discussion posts are about Fingernail art and Mugglenet's tweet remembering Alan Rickman's birthday, it only demonstrates how unrelated to the wiki Discussions really is. Fandom's interest in site "stickiness" and user interaction has lead to a new product that really has no ties to their flagship wiki products. According to their own goals, Discussions is supposed to be a place to chat about any possible element of the fandom topic - they are not requesting, emphasizing, or supporting any broader integration with the wiki-side of things. If Fandom's interest is simply in more upvotes, then perhaps Staff should focus on posting more meme-like content as that is the measure of success? That's probably more snarky than it needs to be, but given Fandom's goal of more clicks, it seems the rules and community for Discussions are going to be fundamentally different than those related to the administration of a wiki knowledge repository. --Ironyak1 (talk) 01:33, November 5, 2018 (UTC)
Yeah, the Star Wars situation is what comes to mind when there is a stated goal of directing or controlling Discussions towards some predefined outcome. If they are the "what not to do" example, is there "most successful" Discussions community counter-example?
Question
Hello Marc, it's Dave, and I am trying to become an admin again. I am messaging you to ask a question: do you think I am fit to become an admin? What do I need to improve on? What are my flaws? I am asking you because I would consider you someone who would give me an honest answer. You seemed in favor of CC becoming an admin, are you in support of the idea in general? Please get back to me as soon as possible.
Cheers, Dave (talk) 19:26, November 10, 2018 (UTC)
RE:Discussion Contests??
Yes, that was strictly Staff's doing, so I'd ask them. Cheers, --  Seth Cooper  owl post! 20:12, November 12, 2018 (UTC)
RE Thanks
No problem. Hopefully Fandom will find a way to get editing to work well on mobile either by fixing and restoring their mobile skin editor or perhaps adding it to the app. For all the focus on mobile, editing there has always been massively under supported. Cheers --Ironyak1 (talk) 04:57, November 14, 2018 (UTC)
Improving Discussions
As a follow-up to the commentary on the Requests for Permissions, I've made a post to gather input on how to improve Discussions. Given that you've expressed some hopes for what Discussions should be, I'm hoping you'll share some ideas on how to accomplish this. Cheers --Ironyak1 (talk) 19:33, November 16, 2018 (UTC)
Changes
Heh heh. 
Hello again, Marc. If you ever read this: though we both know the Discussions will never be the same again, resuming as a Discussions Mod after you, I hope to recreate a glimmering shadow of its past self. No House Games or Golden Quills or Merlins, and the board is full of memes and zero-effort posts, still...
It's been almost a year, hasn't it? Feels like such a long time, at least for me. I've thoroughly enjoyed my time at the wiki as a normal user before my Modship, and under yours and the rest of the 'old team' that all retired... except for maybe Drag0naV.
I'm bringing back a new version of Roleplay, similar to RPGs. Kinda underdeveloped, but at least it's something. And, hey, maybe one day I'll finish the saga of GSC!
I realize that during your time as main Mod, I was a kinda incompentent for a user. I do reminisce that I was quite arrogant at the time, not to mention being kinda awkward and incessantly annoying.
But hey, we've all changed. The Wiki has changed. I got my promotion a while back! And did you know that because of all the problems the OT is now on a separate imitation wiki... welp.
So how's life? Those broken coin machines aren't gonna fix themselves... :)
 MagnificentMagnus   Talk   Contribs 06:59, June 20, 2019 (UTC)
Discussions
While I appreciate the intent in this post to help people understand the dangers of requesting and sharing personal information online, it isn't your role to tell people how to, or how not to, use the site. In the future please use the reporting options such as Ministry of Moderation post or Request Administrator Attention so such issues can be properly addressed. Thanks --Ironyak1 (talk) 17:07, December 17, 2019 (UTC)
*Disclosure: Some of the links above are affiliate links, meaning, at no additional cost to you, Fandom will earn a commission if you click through and make a purchase. Community content is available under
CC-BY-SA
unless otherwise noted.