Jurassic World: Dominion Dominates Fandom Wikis - The Loop
Play Sound
"Is this all real? Or has this been happening inside my head?"

The topic of this article is of a real-life subject that has been mentioned "in-universe" in a canon source. The Harry Potter Wiki is written from the perspective that all information presented in canon is true (e.g., Hogwarts really existed), and, as such, details contained in this article may differ from real world facts.
Valerian was a plant with magical properties. It grew best in sunlight.[1]
Uses
Valerian was used as an ingredient in Treacle fudge.[3] Valerian roots were used in potion-making; they were one of the ingredients of the Draught of Living Death[6] and the Draught of Peace.[5] Sprigs of valerian were used in the Forgetfulness Potion, the Sleeping Draught[2] and the Fire-Breathing Potion.[4] Rubeus Hagrid grew valerian in his garden.[3]
History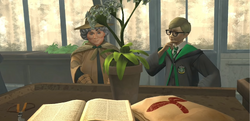 Growing and tending to valerian sprigs was covered in third-year Herbology classes at Hogwarts School of Witchcraft and Wizardry during the 1986–1987 school year, taught by Professor Sprout. During this lesson, a Boggart appeared in the Herbology Classroom, which Sprout expelled with the Boggart-Banishing Spell for Penny Haywood, when it manifested in the form of a werewolf for her.[1]
Behind the scenes
Valerian (Valeriana officinalis) was known in medieval times as All Heal, was recognised for its sedative and antispasmodic properties, and so was used as a sleep and nerve remedy and later as a treatment for epilepsy.[7]
Appearances
Notes and references