Jurassic World: Dominion Dominates Fandom Wikis - The Loop
Play Sound

Vera Verto
is nominated for
featured article.
Feel free to review
this article's entry.
"Could I have your attention please? Right, now, today, we will be transforming animals into water goblets. Like so. One, two, three. Vera Verto."
— Professor McGonagall to her second-years
Vera Verto[1] was the incantation of a Transfiguration spell used to transform an animal into a water goblet.[2] Animals susceptible to this spell were specifically aves,[2] rats,[2] and felines.[3]
Casting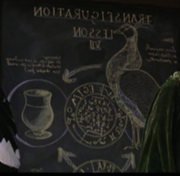 This spell appeared moderately difficult to perform and could be disastrous if done wrong. Side effects include the goblet becoming furry or having a tail. Wand movement and posture were both very important for this spell, as Professor McGonagall noted when teaching her second-year class in September of 1992.[2]
To perform the spell, one must tap the targeted animal three times sharply with their wand and then point their wand directly at the animal, incanting Vera Verto.[1][2][3]
Effects
Once performed, a jet of nearly indiscernible, crystal-clear mist, almost like a spray, would shoot from the caster's wand, engulfing the animal and quickly morphing it into a goblet with a quiet whooshing noise.[2]
If performed incorrectly, a spasm of greenish light might shoot from the wand with a crackling, whining noise and the target would be transfigured incompletely. It might still be furry, or might possess a tail (or a combination of the two), and in some cases might even still emit vocal sounds.[2] However, given that the only known case originated from Ronald Weasley's broken wand and it was on Peter Pettigrew in his Animagus rat form,[2] it is unknown if it was an isolated occurrence.
History
During the 1987–1988 school year, this spell was taught to fourth-years with rats as their targets. Professor McGonagall told the class one famous wizard used it to toast to the health of his beloved cat.[3]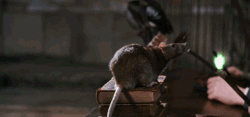 During the 1992–1993 school year, this spell was taught to second-year students, in lesson seven, as noted on her blackboard. Ronald Weasley was asked to try on his pet rat Scabbers, but his damaged wand led to an incomplete transformation.[2]
Known practitioners
Media
Etymology
Vera is taken from the Latin noun Fera meaning "beast" or "wild animal".[4] Verto, also Latin, is a verb that can mean "I turn" or "I exchange".[5] Collectively, Fera Verto is a Latin phrase that can be taken to mean "I exchange the beast".
Behind the scenes
Appearances
Notes and references